Branch Blog - New York, NY
Mon, March 09, 2009 • Sweet, Sweet, Sweet, Sweet Little Ecstacy
Trick or treat, my groovie art ghoulies! Once again, this is Syd Bernstein welcoming you to a spooky Halloween edition of Dr. Sketchy's Anti-Art Blog! No, wait, that can't be right. Halloween was four months ago. So, maybe this one is Christmas. Christmas, with the stockings stuffed with sugar plums and candy canes… No that was two months ago. Still, I'm getting closer. There must have been some candy-exchanging occassion that the Christians stole from some Pagan culture, or else the whole candy backdrop wouldn't have made any sense. What about… Easter? Sure! Close enough! It's never too early to start celebrating Easter! So, to welcome the Anglo-Saxon goddess of the spring, we had our very own spring goddess, Delirium Tremens!
Oh, madam, you look so hot. Why don't you take off your coat and stay a while?
At about this point, our beloved hostess Molly Crabapple went out to get pizza. The pose ended, then we had a five minute break. Then the break ended. Then Steve and I started to worry a little. Then Molly returned from getting pizza and rushed to the stage to introduce the next pose. For anyone having trouble visualizing this, here is an artist's rendering of the incedent:
Anyway, back to Delirium:
Now for a quick word on symbology. Many people who were never taught the origins of Easter as a holiday are mystified by why its traditions include rabbits distributing eggs. Actually, the meaning of these symbols are very understandable given the fact that Easter is a rite of spring. Spring is when animals come out of hibernation and plants bloom once again, which is why it is so commonly associated with rebirth and birth and reproduction. Eggs are very simple and comprehensible fertility symbols given their integral role in reproduction. Rabbits are also fertility symbols due to their prolific breeding, but are more specifically associated with sexuality, due to their eagerness and cavalier attitude toward the sex act. In these photographs, we see Delirium posing with roses. Flowers are appropriate to spring, as that is when they bloom; and to fertility rites, as they are the angiosperms' reproductive organs. Roses in particular have a specifically vaginal connotation due to their shape. In summary, Easter is fucking hot!
Here we see Ms. Tremens being assaulted by a herd of vicious and lustful candies. I don't recall that happening, but it's art, so it must be real. This is why it is so essential to have the audience watching and recording these sessions. Thank you, audience!
For those of you who are missing cohost John Leavitt, we asked the audience to work him into their drawings for one of the contests. Here is Molly Crabapple with the first entrant.
Really, audience? Really? I'm ashamed of you. I used to think you were cool, too.
This is a beautiful piece. At least the part of it that isn't John naked is beautiful. Still, the obvious winner was:
I think that's pretty self-explanatory.
As John's substitute on this blog, I feel it is my duty to do more than merely mimic John's own narrative style. Rather, I am obliged to provide my own outlook as a counterpoint to John's. More precisely, I would like to delve more into the often under-represented heterosexual perspective on Dr. Sketchy's Anti-Art School. I want to provide the sort of insight into our events that can only come from someone who is leading an actively heterosexual lifestyle - insights such as "Yay, breasts!" and "I enjoy licking vaginae." More as they occur to me.
Once again, we have sadly run out of photos, and thus our blog has come to an end. Thank you to Justin Lussier for the photography, Molly Crabapple for the hosting, Delirium Tremens for the modeling, Melissa Dowell for the backdrops, and everyone else I didn't mention. I'll see you next week in a socially relevant session with Bella Vendetta, entitled, "Die, Yuppie Scum."
-----
RSS
NYC Events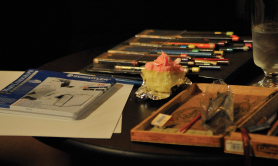 Art Tumblr
Dr Sketchy's LA 12/3/13 (pt. 1)
artofach.blogspot.com
http://drsketchy.tumblr.com/post/69132640329