Branch Blog - New York, NY
Thu, March 15, 2012 • Templesmith Fugit
Hello, Art Monkeys.
Our Art Star series of sessions paying tribute to our superfamous artist friends continued with Ben Templesmith and our salute to his Erotica Tentacular, Squidgirls. As we all know, the love between woman and squid is often a taboo subject. There has been a seething enmity between human and squid for countless generations, and it is nice every once in a while to see them come together to create something beautiful. Our models for the session were the always delightful Delyssia LaChatte and Madame Rosebud. Kate Black's pictures follow:
Diamonds may be a girl's best friend, but tentacles are her secret lover.
Sometimes, you have to warm up before a squid attack.
Backstage, the maestro creates.
The successful squidgirl must first understand the squid and immerse herself in squid before she can truly become one with the squid.
Being surrounded by half-naked women is just an ordinary part of an artist's lifestyle.
When squids listen to music, do they use their cephal-iPods?
Always remember to tell the squid your safeword before you begin.
Madame Rosebud didn't want the tentacles to have all the fun.
Tentacle hugs!
Here the tentacle plays peek-a-boo with Madame Rosebud. They're such a cute couple.
The art from the session as it was being made.
I don't think we're allowed to show the other end of the tentacle coming out of Madame Rosebud's mouth.
The winner of the one-line drawing contest poses with his new nylons from What Katie Did.
It was at this point that I started to notice that this was sort of a weird session.
Tentacles are so much more fun when you have a friend to share them with.
For our second contest, the Squidgirl did battle with her natural enemy - the Whalegirl.
Look, after two hours, a squidgirl deserves to lie down.
This is what Yao does when she's bored.
It's moments like these that really make you stop and take stock of your life.
The theme for our drinking contest was geek shit.
The winner, as always, was the stage.
Thank you to Ben, Melissa, Foley, Kate, Kieth, Liz, and Jawad.
- Syd Bernstein
RSS
NYC Events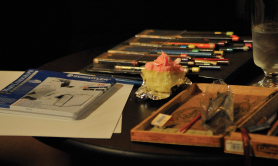 Art Tumblr
https://vimeo.com/81362468