Branch Blog - New York, NY
Tue, November 17, 2009 • That's really super, Supergirl
Howdy folks! John Leavitt here, back for a super-powerful session of Dr. Sketchy's Anti-Art School. In our 4th Art Star show, the stunning Darenzia and Nicholas acted out scenes from Craig Yoe's 'Secret Indenity", a new book all about the underground fetish drawings of Superman Co-Creator Joe Shuster. It's like we brought a whole bunch of Tijuana bibles and Slashfic to life. Our Moms must be so proud. More BANG for your KAPOW after the jump. Photos by Justin Lussier.
First Craig Yoe gave a kicky presentation on his book and how he discovered Joel's seedy past. Thanks to Zoe for bringing his screen otherwise Craig woul've had to describe things and resort to shadow puppets. (Sounds like a new theme idea! Dr. Sketchy's Does PLato's Cave?) Then, set to the strings of 40s ballads, came the real action:
"Why hello there Mr. Luthor. Maybe I can make you forget about World Domination for a little while?"
I'm pretty sure this is what the Silk Spectre did on her nights off.
Art! Best left-handed drawing ..and other things.
Thinking about the erotic subtext of people who beat the crap out of each other in masks is like pointing out the bondage in Wonder Woman. It's not subtext, it's TEXT. If I was Syd I'd have a whole three-paragraph commentary ready for this, but I am not, so you are spared. For now.
Whip me! Beat me! Throw me into Arkham and call me cheap! Oh we're gonna get C&D letters, aren't we?
Many thanks to Melissa and the Art Monkey crew for our zip-o-tone inspired set. Eat your heart our Lichtenstein!Now Justin Lussier is a very talented photographer. See him turn the Lovely Ms. Crabapple (Seen here with the author Craig Yoe) from this


Into this.


Molly Crabapple can kill you with her brain.
He even managed to make me look sober! He's a wizard! Burn him!
Of course, we had drinking contests.
The drink was called a Red-Headed Slut. I have no idea how it relates to superheros unless Jean Grey is doing something behind Scott's back.
And we end with Darenzia and Nicholas re-enacting the cover of the book! Thanks to Craig Yoe, Whitelines, Baby Tattoo books, and all of our hard working Art Monkeys! You'll be spared when the revolution comes.
-----
RSS
NYC Events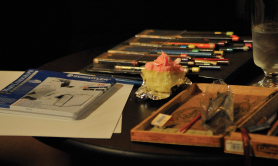 Art Tumblr
https://vimeo.com/81362468