Branch Blog - New York, NY
Thu, April 22, 2010 • That's the Way to Do It!
Salutations encore, singes d'art!
Once again, we here at Dr. Sketchy's present a tribute to French theatre, because things from France are inherently better than things from other places. This especially holds true for excessively violent puppets. That's why we recently did a salute to Le Théâtre du Grand-Guignol. For those of you who are under 70 and may not have had the chance to frequent the Grand Guignol, this was where shocking and melodramatic horror was performed. Its name comes from Guignol, a French puppet show based on the Italian commedia dell'arte, which… you know what? It takes too long to explain. We had puppets and knives and breasts. Deal with it.
For this session, Dante Posh took the role of Mr. Punch (whose name sort of sounds like "Dante Posh" - sort of) and Darenzia played Judy (whose name is nothing at all like "Dante Posh"). Photographing them is special guest photographer Lauren Goldberg.
Our play began with Mr. Punch breaking free of the strings that had been restraining him.
The audience captured Mr. Punch's colourful antics with colourful drawings…
…and some less than colourful, but we won't hold that against them.
Where's Judy?
She's right behind you!
Mr. Punch was joined on the stage by his long-suffering wife, Judy.
The artists had to draw twice as fast to draw twice the models.
As customarily happens with these two, things came to blows.
Here you see the Left Handed Drawing competition in action. Look! They're drawing with their left hands!
These people drawing with their right hands are either left handed or filthy cheaters. We should start throwing things at these people and seeing which hand they use to catch it to test.
The results, as always, were remarkable.
And the winner received Miss Mindy's Sassy Paper Doll Bonanza, which is one of our favourite non-French books ever.
The spat did not go well for Judy. I don't know why she doesn't leave Mr. Punch. I think they're just staying together for the children.
It was at this point that the models started to remove their clothes, which is why our puppet shows are better than traditional ones.
For the next contest, the audience incorporated their favourite movie monsters.
Jason vs. Sadako. East meets and dismembers West. It absolutely could happen.
Godzilla vs. Darenzia - that sounds even more like a real movie.
I asked and, no, there is no explanation for this one.
BETH: My parents let me watch The Wizard of Oz when I was five years old and it gave me nightmares for years. DAVE: Oh right, the wicked witch. BETH. No, Dorothy. For years I was convinced that a house was going to fall out of the sky and crush me and then some farm girl would come along and steal my flashy red shoes. -From Newsradio ("Daydream" written by Paul Simms)
The winner got a gorilla from Squishable that both John and I loved but neither could keep.
Here things came to blows in a completely different sense of the word.
Here we once again see the view from the back of the room, where the farsighted create blurry drawings of indistinct models.
The foot fetishists might have felt that this blog has been neglecting you over the past few sessions, but here's something for you.
This is a seldom used archetype from commedia dell'arte, Molly Crabapple.
And who is that, boys and girls? Is that the nasty ghost who frightens Mr. Punch? No! It's our friend John Leavitt. Ghosts don't wear flannel.
Here Mr. Punch supervises as his baby plays with her pet rat.
The 20-minute poses allow our artists the time to more fully flesh out their drawings.
They also allow the model's legs to get really tired.
I think I lost track of the story at this point.
For our final contest, the artists were asked to incorporate other children's toys.
The classic rubber ducky.
Raggedy Anne.
Actually, I'd like to see a LEGO themed session at Dr. Sketchy's.
This is the gang rape scene that was cut from The Nutcracker.
This is what happens when you let David Lynch direct an episode of Care Bears.
And, finally, claymation S&M with Gumby and Pokey.
These artists deserved a drink.
Thank you to Molly, John, Lauren, Beth, Foley, and everyone who made this session happen.
-----
RSS
NYC Events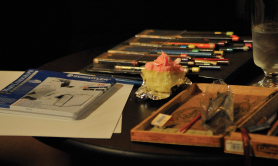 Art Tumblr
https://vimeo.com/81362468