Branch Blog - New York, NY
Thu, May 17, 2012 • "THE BATTLE OF BLOOD AND INK" In-Store Signing
Long-time fans of Dr. Sketchy's Anti-Art School may wonder whatever became of Steve Walker - the dashing bemohawked young man who for years helped run our sessions. Well, he moved out west to set his prodigious illustrative talents to comic book projects. The latest of these projects is called "The Battle of Blood and Ink". It is part of the Fables of the Flying City series and it was just released recently and if you haven't already purchased it, you really should.
If you are already a fan and would like to meet the creators, you are in luck, because Jared Axelrod and Steve Walker are going to be in New York City's Forbidden Planet comic book shop (840 Broadway, New York, NY) on Friday, June 8 at 6:30 for an in-store signing. For more information, check out the event listing on Facebook.
To sum up:
Signing for The Battle Of Blood And Ink at forbidden Planet Comics
Friday, June 8th 2012 at 6:30 PM
Come meet the Authors of the Battle of Blood And Ink, Jared Axelrod and Steve Walker who will be talking laughing and drawing!
RSS
NYC Events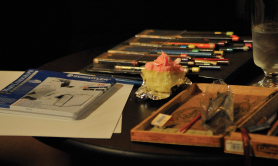 Art Tumblr