Branch Blog - New York, NY
Sun, December 10, 2006 • The Book Has Landed
THere are moments that define a generation. The Moon landing. The Fall Of the Berlin Wall. 99 cent chicken nuggets at Wendy's. And Now, loyal art monkeys, I present to you…. The Official Dr. Sketchy Book Release party…..RE-CAP!
We were unprepared for the glut of love and support from our esteemed fans and wellwisher. So many wellwishers that I'm pretty sure we broke fire-codes an induced at least one claustrophobic panic attack. How crowded was it?
That crowded. But such is the cost of AWESOMENESS, and baby, we had awesome in excess. Most book parties are full of wine and cheese and people making sad little encourging speeches. We had beer. And cake. And boobies.
To start the evening of AMAZING, Lady J did rock out on stage to distract us from the band setting up in the back.
What you are seeing is actual documented proof that Lady J emits rays of supernatural Hawtness from her body, giving her to power to confuse and enchant men.
Here Lady J eats cake with Steve Walker, our DJ for the night's debachery. His cheek bones are deadly and should only be handled by a trained professional.
Darlinda Just Darlinda and her techincolor dream coat…of sexiness. All the performers appeared in the costumes they modeled in for Dr. Sketchy's. Except for the White Boom Boom, since his costume was his own sweet naked self.
He took it all off to Oingo Boingo's "Dead Man's Party", like some kind of New Wave Zombie Victorian..which is also the best description of Dr. Sketchy's I've ever heard.
Amber Ray, in her Peacock Queen glory, lit by the light of a thousand tiny camera phones.
The whole shebang was hosted by The World Famous BoB, who if you didn't know allready, contained concentrated amounts of Rockingness 238. Behind her, Molly Crabapple and her Head-Feather gaze on.
I'm getting a werid vaudevillian vibe from this picture. As if any moment someone will be hit in the face with a cream pie. It wouldn't be the first time that happened.
Former models who didn't perform showed up! Joey Hardcore (left) took a break from smashing bones on rollerskates to buy a book and see the show.
And what a show it was! The Two Man Gentleman Band rocked us back to bluegrass with thier hit song "Prime Numbers"…Shes only divisable by 1..and that one is me.
Why, it's more important people! and the Arm of Dean Haspiel: Famous Shirtless Comic Book Arthor! Whats that in front of them? The Real Star Of the evening…TrannyCake!
"she" perfers to be called "Mindy", but was destined to be torn apart and eaten by the night's end. Such is life. Cake from Masturbakers, makers of fine, dirty cakes on the Lower East Side.
Of course, the sinister intent behind the show was to trick people into buying the Official Dr. Sketchy Rainy Day Colouring Book and then make us sign it, inflating me and Molly's self-importance to atomic levels.
I spent 10 minutes editing this image so I can read what I was writing. It says to (heart) Dave. I don't know who that is.
It's Syd Bernstien! Monologist and Art Monkey, gaurding the book stable with his trained hairstyle.
Our wonderful put-upon publisher, Scott Diperna, had made a cutout of Sparkly Devil. Lots of people wanted to pose with it.
Lots of people

Lots..
and lots
and lots
and lots
Of people. I bet even Sparkly doesn't know how many fans she has.
It's I, your erstwhile re-capper and crowned co-author. Most authors are, in fact, required to wear a crown at all public events. Ever wonder why J.D Salinger is such a recluse? No fucking CROWN, man. You should see Steven King's, it's made of the bones of his critics.
Comdey Wunderkind and Master Debator Jen Dziura appeared, despite it being her birthday and despite the dangers of being so close to a feather hat that large. If it collapsed it would take weeks to pull through the wreckage.
Jen Dziura and her date for the evening. I only included this cause they look like they're off to FIGHT CRIME or breed a master-race or something. The Ubermenches enjoy Dr. Sketchy's, why don't you?
Lady J and Dean Hapspeil and lots of other people I don't know or was too drunk to remember thier names.
But really, but needs pictures that DON'T MOVE? Thats so 19th century! Courtsey of Fleshbot, enjoy some Moving IMages of some of performers in this clip, set ot the music of the One Band Gentleman Band.
http://www.youtube.com/watch?v=RJ7EBZkp9Us&eurl=
Lady J, shaking what I assume her momma gave her.
http://www.youtube.com/watch?v=MLP_t6kktFQ&eurl=
Or just check out EVEN MORE IMAGES here
http://www.fleshbot.com/photogallery/drsketchyparty
Thanks to, god, everyone and everything. I have no idea how we actually pulled this off. I'm convinced I'm going to wake up tomorrow and it will turn out to be some opium fancy. But for now, thank you. THank you World Famous Bob, Lady J, The White Boom Boom, Darlinda Just Darlinda, Amber Ray, The Two Man Gentleman Band, Brian Van, Steve Walker, Syd Bernstien, Ryan Roman, Justin Lussier, Fred Harper, Mastyrbakers, Jen Dzuira, Gallery Cat, Tracy Quan, Joey Hardcore, The Slipper Room, and everyone who showed up, bought a book, or came out to support Dr. Sketchy's. Thanks for making this the Launchiest Launch Party ever. We'll remember ALL of you when we're rich and famous. Seriously.
See you next time Art Monkeys!
-JL
RSS
NYC Events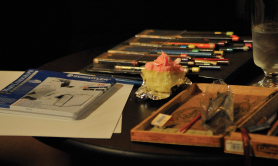 Art Tumblr
Dr Sketchy's LA 12/3/13 (pt. 1)
artofach.blogspot.com
http://drsketchy.tumblr.com/post/69132640329