Branch Blog - New York, NY
Thu, December 21, 2006 • The Dr. Sketchy Multi-Verse
It's a bird! it's a plane! It's a Dr. Sketchy Book Signing! We took over the venerable comic book megastore, Jim Hanley's Universe, for a night of cupcakes, espresso beans, poses, and copious cleaveage. But why use mere words when we have such great images? Photos by Ryan Roman and Dr. Simon.
Lady J, our model for the evening and exploder of hearts nationwide. I read from the book and Molly provided the flimsy pretense of a "drawing lesson" so we all could gaze upon lady J as a saucy sailor. All hands on deck indeed.
It's as if I heard a thousand fanboys cry out, and then suddently silenced…
Our table, lovingly arranged by our overworked publisher, Scott Diperna. Molly is wearing a "New Orleans Forever" T-Shirt she designed. I am wearing Officical Dr. Sketchy Buttons, that I designed. It's enough to make an AdBuster's editor's head explode. Notice the contintuing theme of baked goods? Dr. Sketchy's is so anti-Atkins it HURTS.
Molly crabapple loves you THIS MUCH. That or she is going to Watusi at any moment.
Okay, enough monkeyshines, time for the "drawing lesson".
Okay, that last photo was just to show off Lady J's back tats, cause they are pure, concentrated AWESOME. For the sake of editoral balace, here is a completely pointless and explotative photo of Steve Walker, for the ladies (and satistically speaking, 10% of the men.)
Happy now?
Of course, we signed things. Books mostly.
John Waters enjoys Dr. Sketchy's! Actually not Mr. Waters, but an amazingly dapper gent called Tom. He classed up the joint, yo.
Signing a book for Monanta. I congratulated her on her low population density. A girl needs to hear that every now and then.
Lady J was kissing books and as such, hogging all the spotlight. Something needed to be done.
I decided to kiss some books. Now we'll see who is the reall belle of the ball, bitch.
"You never should have come back to Berlin.."
We had alot of photographers at this event, and once again they manage to capture all the contortions and embrassing twists of my face. Thus I give you THE MANY MOODS OF JOHN LEAVITT

Exuberant
Imperious
Informing you that it is ONLY 19.99!
Consumed by Ennui
Doing a Peter Lorre impression
Totally baked.
Actualy I think that last one can go for all of them.
Yes she does.
Many thanks to Jim Hanely's Universe, it's staff, and everyone who came out to buy a book and oggle! Check out more Dr. Sketchy events at http://www.drsketchy.com/test/jimhanley/tour
Next event is
January 5th, 2007 Philadelphia, PAPeepshow, the Art of Molly Crabapple
book signing and solo gallery show
at Trinity Art Gallery
6-10 pm
158 N.3rd St.
Philadelphia, PA
And come to the Lucky Cat on Jan 6th to see Little Brooklyn shake her tailfeathers. Until next time my little monsters.
Best,
-JL
-----
RSS
NYC Events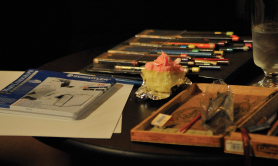 Art Tumblr
The results of tonight's Dr Sketchy's session :D
http://drsketchy.tumblr.com/post/69489605480