Branch Blog - Chicago, IL
Sun, June 17, 2012 • The (Durrty) South Rises!
It was hot outside, and even hotter indoors at the Everleigh Social Club on June 10th. Model May Oui, making her debut, was as sweltering as a Savannah summer day. Vivian Velvet cooled us off (just a little) with her take on a fan dance, performing her signature "Summertime" act.
The Southern Comfort flowed and hands were busy all afternoon...sketching, of course...in a fun and sexy afternoon!
Join us August 26th for the next installment. Details coming soon!
RSS
NYC Events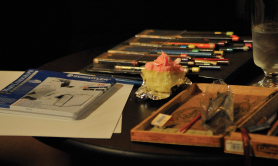 Art Tumblr
https://vimeo.com/81362468