Fri, November 12, 2010 • The Falmouth branch is Cornwall's Coolest!
And now the Toy Box of Terror event and all it's gruesome, blood-stained Halloween depravity has been featured on the
Cornwall's Coolest
website!! if you missed the haunting evening of sick sketching then check out the article and also have a peek at
Royzy's blog
of the evening...
RSS
NYC Events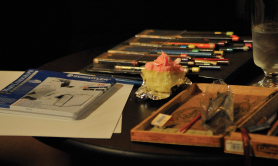 Art Tumblr
https://vimeo.com/81362468