Branch Blog - New York, NY
Thu, March 18, 2010 • The Gold Standard
Hello, Art Monkeys!
Recently, the Olympic Games were held in our own continent, somewhere in the frozen northlands, and we held a session of Dr. Sketchy's Anti-Art School to celebrate. Now, you may not know this, but despite our finely toned, perfectly proportioned and developed physiques, most of us behind Dr. Sketchy are not particularly sports fans or even entirely aware of what sports are or when and how they are played. However, we are huge fans of people in scant clothing bending in ways that God never intended. That is why we are really into Olympic gymnastics. Also yoga. And medieval torture devices.
So it was that we had contortionist Ekat bending away for us in our Olympic tribute.
I bet when Ekat gets an itch, she can scratch the hell out of it.
I'm not entirely sure that's really her arm.
Soviet judge John Leavitt holds up the prize for the best left-handed drawing: A raccoon from Squishable. How do you know he's Soviet? The moustache.
For this session, the audience's drawings were given a numerical score by the French judge (or at least the judge with the fakey French accent) Syd Bernstein. Unlike John, I don't break character. That's why this whole entry is written in a French accent. If you didn't notice, go back and read it again.
Ekat reenacts her favourite scenes from Jean Claude Van Damme movies.
This last pose may not look as impressive as the others, but her pelvic floor muscles are twisted in ways you wouldn't believe.
Those of you who were paying attention may have noticed that gymnastics is a summer game, while our session was held during the winter games. To correct this disparity, we had our artists incorporate winter sports into their drawings.
One easy way to incorporate the Winter Games is to write "Winter Games" on your drawing. There. No way anyone could mistake that for a Summer Game now.
Also, a simple change of foorwear can change the season and the sport completely.
Here, Ekat demonstrates how to ski completely wrong.
This artist provided a new perspective from her seat behind the model. Really, she's just showing off that she can draw really well. Way to make everyone else feel bad.
And finally we see a gymnast's off-season spent as a ski jump for smaller athletes.
And nobody drew luge? What the hell?
The artists in the back rows may not get the best view of the model, but they do get the general sense that something is happening onstage, which very important.
As we all know, the Olympic Games are not just about athletic spectacle. They are also about people of all nations getting along and pretending not to hate each other, even the evil ones. That means lots of ass-kissing and appeasement. In that vein, we asked our artists to pay tribute to a tyrannical despotic regime in their drawings.
This drawing salutes Dick Cheney. While he was never technically a dictator, eh, close enough.
Here we see the glorious Kim Jong-Il, with the hair of a man three times his size.
A young Fidel Castro orders the model into poses.
Here we have one of our favourite subjects at Dr. Sketchy's Anti-Art Blog, Sarah Palin, who ruled Alaska with an iron fist.
Yes, that is sexy Hitler. That's right, sexy Hitler.
This is a subtle, understated tribute to Lenin, or Vlady-kins as he is known in Smolensk.
Holy shit. No, seriously.
Our contest winners enjoy their international shots. Sort of.
In a stunning upset, though, the gold medal was granted to Molly Crabapple.
Thank you to Molly, John, Justin, Melissa, Zoe, Keith, Dolcy, Foley, Dave, and Beth. We'll see you in two years for more Olympic fun!
-----
RSS
NYC Events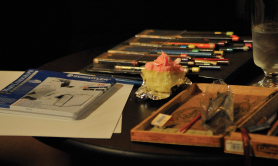 Art Tumblr
Dr Sketchy's LA 12/3/13 (pt. 1)
artofach.blogspot.com
http://drsketchy.tumblr.com/post/69132640329