Branch Blog - New York, NY
Fri, June 05, 2009 • The Great Gonzo
We begin quite simply with a typewriter and a bottle of whiskey - the tools of a truly great journalist - because at our last Dr. Sketchy's session, we had none other than the greatest journalist of all time. Who is this wondrous chronicler of the American experience? Tom Brokaw? Edward R. Murrow? Bob Woodward? Hacks one and all! No, I mean the rare genius that is Hunter S. Thompson.
Unfortunately, we didn't have the budget to fly up and sweep the real Thompson out of the sky to pose for us, but we had the next best thing - and in some respects, a better thing - our own lady chameleon Gal Friday assuming his form and his legendary persona. We are lucky enough to have a full shitload of pictures of this event, so let's get started.
"The car suddenly veered off the road and we came to a sliding halt in the gravel. I was hurled against the dashboard. My attorney was slumped over the wheel. 'What's wrong?' I yelled. 'We can't stop here. This is bat country!'"

-From Fear and Loathing in Las Vegas by Hunter S. Thompson
I don't think this scene was actually in Fear and Loathing in Las Vegas, but I think I know at least a hundred women who would have loved Johnny Depp doing something like this.
Our disgustingly talented audience did these with their non-dominant hands.
"it doesn't matter what i say
cos every sentence ends
in a steadman spray
forefinger blackened in song
broken blood from an empty vessel"

- From "In a Steadman Spray" by The Velvet Teen
You may think this lyric has nothing to do with anything, but fuck you! Judah Nagler is brilliant and when you have your own blog, you can not quote him all you want.
You see that whiskey bottle? It's a visual pun!
Here John displays some of the fabulous art that can be won at Dr. Sketchy's.
Never in my life have I been more envious of a bat.
Here is a sampling of the mescaline induced drawings our audience came up with based on that pose.
Are you getting tired, Mr. Duke? Then, you know what time it is…
Cupcake break! Hooray for cupcakes! OK, back to the posing.
I am disturbed by how much she looks like Hunter S. Thompson, but not as much as by how much I would still totally do him. Her. I meant her.
I really, really hate the random noun contest, but God damn! Those drawings are fucking amazing!
In a variation on the classic human canvas, one lucky audience member got to draw on Hunter's bald head.
Afterwards, he was rewarded with sweet, life-sustaining liquor. But, you know, the modeling and drawing aren't all of what makes Dr. Sketchy's Anti-Art School great. There is also all of the behind-the-scenes work that we like to pretend you care about. So if you don't mind, I'd like to introduce you to some of the people who make Dr. Sketchy's happen.
On the right is our cohost, John.
On the left is Wild Turkey.
Over the course of the session, the two of them became very well acquainted.
Our other cohost is the lovely Molly Crabapple, but you know that already.
Here we have, from left to right, Hilary, Melissa, Me, and especially Molly.
This is Tim, one of the gonzoest motherfuckers I know.
Melissa drew a hat on the tattoo Tim has of himself on his leg to make it more accurate.
Hey! Who is this gorgeous creature, with the finest scarlet locks I have ever seen?
And this is you, the audience! And those are all of the photos I have, so I, Syd (below), and photographer Justin Lussier (not pictured) will see you next time.
RSS
NYC Events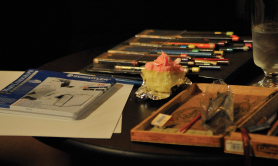 Art Tumblr
https://vimeo.com/81362468