Branch Blog - New York, NY
Sat, January 21, 2012 • The Joy of Six
Hello, Art Monkeys!
We recently had our sixth anniversary session. As those of you who just looked it up on Google know, the traditional gifts for a sixth anniversary are sugar and iron. Unfortunately, my suggestion for a session based on my Iron Man/Strawberry Shortcake crossover fanfiction was summarily rejected on the basis of being stupid. I am not discouraged, though, and if I ever have a marriage that lasts 6 years, I have some big plans for the night of that anniversary. Hopefully, repulsor rays will have been invented by then.
Anyway, as for Dr. Sketchy's sixth birthday, much like my sixth birthday party, this was done lolicon style, with a frilly dress and more pink than a cotton candy factory. Lillet St. Sunday was our model, and I am assured that she is actually over 6 years old in real life and that it is perfectly legal for me to have Kate Black's photos of the session on my hard drive.
As I understand it, this costume was inspired by Death's lesser-known cousin Catnap.
Yes, that is her real hair colour.
Also like my sixth birthday party, all of the adults present were drunk off their asses.
Rihanna was actually not allowed to stand under Lillet's umbrella.
It's like Chekhov's gun - when she comes onstage in a skirt, you know she's going to lift it at some point.
Backstage, Lillet spent hours ensuring that she was pink enough.
This is actually a Lillet St. Sundae doll that we posed in a miniature replica of the stage that we built in our copious spare time.
A little something for the sock fetishists.
Foley had just come from an earlier birthday party at a Burger King.
Oh hi, Yao!
I think she has a question. I know that she has some chutzpah to hold a pose with her arm raised.
But then, I'm not going to question the wisdom of her poses when she's holding a damn sword. I think this was the point in the session when shit officially got real.
I sometimes have trouble facing myself in the mirror each morning. It had never occurred to me that I could bring a sword to fight me off.
Okay, quick, pretend I'm Brad Pitt in Se7en. "What's in the box? What's in the fucking box?!" Now keep pretending I'm Brad Pitt. Hey. How are you doing?
Oh. It was just the prize for one of our contests. So Brad Pitt got all pissed off over nothing.
The art from this session was fantastic, but I've come to expect that.
We had a traditional birthday cake.
We also had traditional birthday car bombs.
And then we had our traditional Drinking Contest. No matter how old we get, some things will never change.
Thank you to Melissa, Kate, Foley, Yao, Keith, and Jawad.
- Syd Bernstein
RSS
NYC Events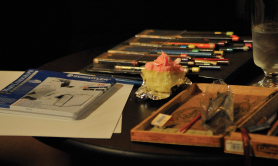 Art Tumblr
https://vimeo.com/81362468