Branch Blog - New York, NY
Mon, June 25, 2012 • The Mamba Queen
Greetings, Art Serpents!
There's magic in the air at Dr. Sketchy's Anti-Art School - magic and snakes. As any fan of the Harry Potter series knows, that is a dangerous combination. Hell, I'm not even a fan and I know that there's some sort of snake thing in Harry Potter because you people never shut up about it. Fortunately, our model Rio is adept at voodoo and fluent in Parseltongue. She tamed the elemental forces of nature and the pythons that are held in their sway. Kate Black photographed.
For anyone who doubts that our models will bend over backwards to please you, now you know better.
Business Tip: If you're looking to make a strong first impression at your job interview, remember that pythons are some of the most intimidating neckties.
The only photographic evidence we have of our One-Line Drawing Contest is the winner holding the book she won from Baby Tattoo Books. I don't know. It looks kind of staged.
I few backstage shots for fans of the rustic exposed-brick backgrounds.
Having no arms, snakes in the wild have to attract half-naked women to scare off predators for them.
Here the snake plays with its favourite toy - Aradia Ardor's mortality.
Our artists hard at work - not snake charming, just regular charming.
This dance invokes the spirits of the wilderness to make the priestess' legs stop hurting.
This dance signifies that the priestess is about to make out with a snake.
It is generally considered good etiquette to remove your snake when you enter a house.
The winner of our second contest, justifiably excited about his new Squishable.
In case the necktie isn't powerful enough, a matching belt is also available.
I don't know what those two are up to, but I know it's nothing good.
Here is Rio cosplaying Sheik's "sister" Snake from Legend of Zelda: Acrochordidae of Time.
Om.
The winners of our drinking contest indulge in our own magical ritual.
Thanks to Melissa, Foley, Kate, Keith, and Yao.
- Syd Bernstein
RSS
NYC Events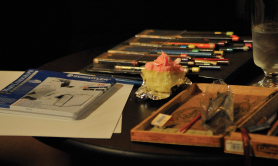 Art Tumblr
https://vimeo.com/81362468