Branch Blog - New York, NY
Tue, October 02, 2007 • The Peter Principle
Dear Peter, the Dr. Sketchy's Lawyer and Art Monkey Emeritus has gone off and gotten himself a *real* job half-way around the world! This will severely put a cramp in his ability to attend our sessions. So now, a retrospective…
Peter: The Dr. Sketchy years
*cue violin*
Here on his birthday, Peter was King Of Us and we screamed lawyer jokes at him for our own amusement.
Peter again, accepting fuzzy dice in what appears to be mute horror. Childhood phobia, or genuine concern as to wear to put them? Such is the engima of Peter.
And finally, a look of sheer joy as free booze is handed out to deserving Monkeys.
Godspeed Peter! May a flight of billable hours sing thee to thy rest.
-JL
-----
RSS
NYC Events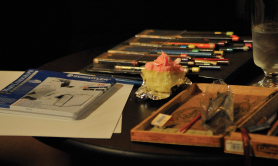 Art Tumblr
Dr Sketchy LA 12-3-13
http://drsketchy.tumblr.com/post/69027079376