Branch Blog - New York, NY
Tue, July 04, 2006 • The Rainbow Connection
Everything old is new again this week at Dr. Sketchy's as our very first model, the lively Dottie Lux one again graced out stage. Before she came as a naughty clown, delighting us and re-kindling lost childhood nightmares. But this week she came as uh, er ….
Ms.Piggy-Streetwalker-Parasol-Person, thing. It confused and amazed, just the way we like it! I thought she would come as a clown again, so all that circus music seemed curiously out of place. She also brought a whole birthday cake to share with the Art Monkeys. Cake for breakfast! Who says we aren't transgressive?
All photos by Ryan Roman, ShutterMonkey extraordinare.
Full rooms make our wallets happy.
When? Now! Or possibly later. Get back to me.
Once again, the wire-bound sketchbook dominates our hearts and minds.
Molly's back and she's tormenting her suspiciously tall boyfriend, illustrator Fred Harper. You may now him from the covers of "The Week" or "Dinosaurman! the comic!" He won an Offical Dr. Sketchy dogtag (from Engravingshack.com) for his "artistic erotic" picture of Dottie with Kermit the Frog.
The winner of Lizzie Sweet bath products with Dottie and Molly.
Yours truly. One of these days I'll figure out how to escape this inky void!
We of course had another contest. This time to turn Dottie into Ms. Piggie.
You people are mean.
and finally, our own Photographer Ryan Roman won the drinking contest (Turn Dottie into Marie Antoinette.) His reward? The most sticky sweet shot we could find. You'll drink it and like it!
And another session comes to a close. Do I even have to thank all you lovely people who make every other saturday such a boozy treat? Be there next time when Darlina Just Darlina will shock and awe!
Best,
-JL
RSS
NYC Events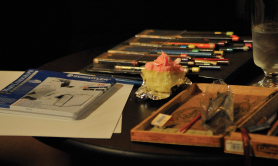 Art Tumblr
https://vimeo.com/81362468