Branch Blog - New York, NY
Sun, July 08, 2012 • The Record of the Lotus War
Namaste, Art Monkeys!
In this session, Amber Ray drew her inspiration from the mysterious, exotic, and dangerously overpopulated lands of Asia. You may wonder how these lands can be considered exotic when most of the people in the world live there, and that is just the beginning of the mystery of this swath of land extending from India to Vietnam and other places, too. This area is home to the sexiest source of three mana of any one colour, the lotus. Kate Black took photographs.
The ceremonial opening of the robe signifies that the model is ready to remove her clothing.
When one photographer walks into the path of another, the two must fight to the death. Kate won this fight and feasted on the flesh of the loser.
Backstage, we see just some of the elaborate process of the costume being assembled from all its myriad parts.
Oh, and the giant lotus set? Amber made that, too.
The weather forecast called for rain. Fortunately, Amber brought an umbrella.
In our first contest, this gentleman won a pair of stocking from What Katie Did. I don't know why it seems that men keep winning these contests. Maybe they just want it more.
Sometimes a model needs to stretch her legs. I'm sure you don't mind.
Some samples of the session's artwork taken even as they were being created.
The last known photograph of another photographer foolish enough to get between Kate and Amber.
Amber stands akimbo, once again giving me the opportunity to use the word akimbo.
Our second contest involved one of the sexiest poses we have ever seen at Dr. Sketchy's Anti-Art School.
The artists worked feverishly to capture what I'm sure they couldn't believe they were seeing, but, sadly, only one could win.
It was hard for all of us to say goodbye to the Squishable that was the contest's prize.
In case you're wondering about those shoes, I should explain - Amber is actually only three feet tall.
As you can see, Sketchy folk are just regular folk like you and me.
This clearly unsymbolic pose is not a metaphor for anything.
Svasthya. That's Hindi for "Sláinte," at least according to Google Translate.
Thank you to Melissa, Foley, Kate, Yao, and Keith.
- Syd Bernstein
RSS
NYC Events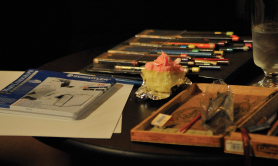 Art Tumblr