Branch Blog - New York, NY
Wed, October 17, 2007 • THE SALON
September 23rd, An undisclosed location in Brooklyn. There, Art Monkeys cavorted in decadent splendor for a full 6 hours. Dr. Sketchy's first private event ….THE SALON
Words fail to do the event justice. A hyperactive, glittering, art-orgasm of multiple models, extreme costuming, bizarre contests and absinthe-soaked insanity. It was a werid, harrowing, stressful, manic 6 hours plus set-up and strike down in one of the most surreal places on Earth. I loved every. freakin. second.
Our Muses! Gal Friday! Lady J! Ian Christianson! All outfitted by the Amazing Amber Ray, professional sensation, and costumer extraordinare to the Demi-Mode. They had multiple costume changes for our various contests. (Best group drawing! Best mask painting!) Lets see more of them in these photos by Dr. Simon
It's electric kool-aide LaTrec as envisioned by Modesty Blaise!
Howard Des Chenes who aside from being our gourmet caterer and an oil painting master in his own right, also took photos. Very cinematic photos. Every shot looks like a still from some long lost Goddard. Example.
"Berlin! Don't tell me of Berlin! Speak of joy and fun and debauchery, but never Berlin!"
Translated from the Italian
"I swear Vinnie. I don't know anything about the money. You gotta believe me Vinny!"
Our musette Amber Ray, appearing in what seems to be Dali's version of "Breakfast at Tiffany's"
Molly Crabapple and John Leavitt conspire in the Hookah room …possibly about killing an Archduke.
As the sun went down over Brooklyn and the last day of Summer, Art Monkeys stagged out, bewitched, bothered and bewildered. I don't think an event like it has happened before …but hopefully, it will happen again.
Thanks to our models! To Paige! To Kitty! To Kate Black! To Syd Bernstein! Steve Walker! All of our lovely models, our amazingly helpful, well-dressed volunteers and all of our fun, talented, super-cool-awesome guests! You guys make the world go round.
See more photos of the event, it's costumed Art Monkeyes, and it's freak-out setting by Martha Burzynski
And more by Howard Des Chenes
-JL
-----
RSS
NYC Events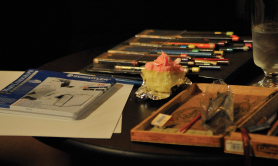 Art Tumblr
Dr Sketchy's LA 12/3/13 (pt. 1)
artofach.blogspot.com
http://drsketchy.tumblr.com/post/69132640329