Tue, September 27, 2011 • The Uk's 1st ever Dr Sketchy Zombie Pin Up Contest
Thank you one and all for attending The Leeds Dr Sketchy Zombie Pin Up contest 2011
we are proud to announce our winners
1st Tottie Spon Sills
Joint 2nd and 3rd place Trixie Passion and Penny Sweets
we had such a great time and lots of amusement has been had by allbut we think we may have created a problem.
The virus began in leeds when the Leeds Dr Sketchy in his lab unleashed the high end strain of the bettipaigezombious maximum virus and it began to spread like a plague throughout the country. All over the UK has been hit by the dr Sketchy Leeds pin up zombie virus, although not deadly it is affecting women all over the UK mangling their once dowdy features in that of a knock out undead bombshell. No one can save us and who cares bring it on I say.

If your branch of sketchys has been affected in the UK please email your Zombie Pin Up contest winners to [email protected]
there will be 3 crowned places
1st Miss UK Pin Up Zombie
2nd Miss Undead Glamourpuss
3rd Miss Zombie Bombshell

Prizes to be announced, contest will run via facebook group
Event is sponsored by http://www.arcanumaccessories.com
Open to all Dr Sketchys within the UK who have held a pinup zombie contest. This event may not be endorsed by all uk dr sketchys, but is created by the Leeds Dr sketchys branch."
Pics of our Zombie Pinup event (Tottie Spon Sills Below)
Penny Sweets below
Trixie Passion Below
Daisy Cutter with child and Tottie Spon Sills Below
Morning Star Below
RSS
NYC Events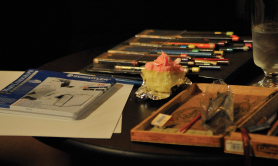 Art Tumblr
Dr Sketchy LA 12-3-13
http://drsketchy.tumblr.com/post/69027079376