Branch Blog - Nelson, New Zealand
Sat, October 16, 2010 • The Wild and Sneaky Art Festival aka WASA
Thanks to the Blue Assassin who started the poses off!!
We had a fun day of people diving into our dress up box and posing themselves!! The artists really enjoyed drawing all the different people and the variety of poses!
A special mention to the 4 young lads that jumped up with no fear and had a go!!
Keep an eye out for more special Dr Sketchy Nelson Street Events over summer!!
RSS
NYC Events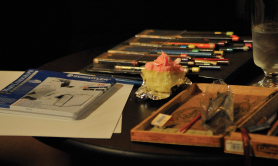 Art Tumblr