Branch Blog - New York, NY
Fri, November 02, 2007 • The World of Lovecraft
Welcome, boys and ghouls and reanimated corpses of art monkeys, to the special Halloween edition of the Dr. Sketchy's Blog!
In honour of Halloween, we had a Lovecraft themed session, full of horrors that cannot be named, the very sight of whom would drive an ordinary man insane. We felt this would be the perfect atmosphere for drawing a beautiful woman, and we had just the woman for the occassion, the beautiful (but also revelatory of the darker nature of our own souls) Aprella!
She was recently assembled from the hottest parts of various cadavers by Dr. Frankenstein. Some of the more literarily inclined among you might know that The Bride of Frankenstein was not one of Lovecraft's stories. However, it should be noted that Lovecraft didn't have many memorable female characters, owing to the fact that girls are icky and have cooties.
Oooh, I think I'm coming down with a case of necrophilia!
As we see here, even unholy parodies of humanity enjoy fine literature.
In the middle of the session, the audience was treated to a sketch of unimaginable horror written by our newest helper monkey, Eve Butler, and featuring herself and some guy she brought along to the session.
This is the last known photograph of Molly Crabapple, before she fell victim to a terrible fate that I can scarcely find words to describe.
That is just about all the time we have for this blog post. It just remains for me to thank Aprella, Weird Tales Magazine, Molly Crabapple, Steve Walker, Ryan Roman, Justin Lussier, and Eve Butler.
Is there anything you'd like to add, Steve?
Steve? What has happened to you? No! Stay back! No! NO!
-Syd Bernstein
-----
RSS
NYC Events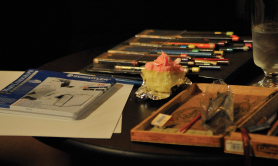 Art Tumblr
Dr Sketchy's LA 12/3/13 (pt. 1)
artofach.blogspot.com
http://drsketchy.tumblr.com/post/69132640329