Branch Blog - New York, NY
Thu, December 21, 2006 • This ain't no party! This ain't no art school!
It has been brought to my notice that the group photo of the Art Monkeys


looks an awful lot like an album cover. Which, of course, led to these
I feel so dirty…the dirt's not coming off!
-JL
RSS
NYC Events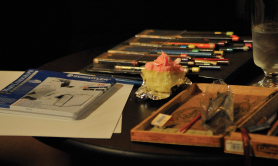 Art Tumblr
Dr Sketchy's LA 12/3/13 (pt. 1)
artofach.blogspot.com
http://drsketchy.tumblr.com/post/69132640329