Branch Blog - New York, NY
Wed, March 31, 2010 • "This is unBEARable!!!"
Greetings, Art Monkeys!
Our latest chapter of our famous Art Star Series honouring people who actually make money doing art featured Neil Swaab, creator of Rehabilitating Mr. Wiggles, the heart-worming story of a loveable, misanthropic, violent, substance abusing teddy bear. In tribute to his great work, we had Darlinda, Just Darlinda dress (and then undress) as Mr. Wiggles.
The posing began with Mr. Wiggles dressed as God, which obsessive fans will recognize from a recent story arc and have a good laugh about.
Mr. Wiggles goes through his usual morning routine.
In this clearly symbolic scene, Mr. Wiggles decapitates and then makes out with Oscar the Grouch.
Mr. Wiggles literally disrobes, providing the furries in the audience what they all came out for.
These drawings were done with the artists' left hands. What they were doing with their right hands is subject to your own speculation.
Through the fur, we catch a glimpse of Darlinda's bear ass. Get it? "Bear" sounds like "bare"! I am so clever!
You know, under that fur, Mr. Wiggles is a lot more shapely than I would have thought.
For the second contest, Neil suggested either his Bar Mitzvah or losing his virginity. We did both.
I would like to point out that Neil, Darlinda, and I are all Jewish, so nothing in these drawings can possibly be offensive.
I think that's a thirteen-year-old boy between Mr. Wiggles' legs, which fits into his usual M.O.
I hear that if you sleep with a rabbi, you are guaranteed a place in heaven.
Hot Wiggles-on-Wiggles action!
Teddy bear, Teddy bear, touch your toes
I thought that Mr. Wiggles had been a bit too well-behaved this session, so for the drinking contest, I had the artists draw him breaking some laws.
The giant rampaging Mr. Wiggles with eye lasers and bullet-nipples and a giant novelty syringe!
I think pederasty was covered in the last contest, but the audience liked it so much that here it is again!
Detroit? I don't get it. Maybe… no… Detroit?
This is the first picture from this session that is not furry porn.
The best part of this drawing is that teddy bears leave payment for their hits in pic-a-nic baskets.
Mr. Wiggles frames Lee Harvey Oswald for Kennedy's assassination. I knew it!
I needed this one explained to me, and I'm still not sure I get it. Apparently, someone wants to outlaw salt? In restaurants? Or something? I don't know. I need a drink.
But these bastards took it!
Darlinda and Neil screwing around. Oh, you kids!
That's all for this week. Thank you Melissa, Justin, Keith, Foley, Dolcy, and Beth.
-----
RSS
NYC Events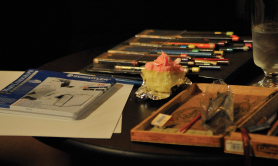 Art Tumblr
https://vimeo.com/81362468