Branch Blog - Baltimore, MD
Sun, July 07, 2013 • This Monday!
Next Dr. Sketchy's Baltimore is Monday, July 8th at the Windup Space with Cherie Sweetbottom, the sweetie pie with fruit on the bottom!
Going through Dr. Sketchy's withdrawal because you got scared off by tornados in the Inner Harbor and missed the last one? Were you all, "Hey, I know about the Dr. Sketchy's Baltimore anniversary curse—I ain't getting sucked up in a tornado, or getting Jonestowned by Russell or whatever the hell is going to happen this time"?
Well, this is your chance to quell those shakes. Sharper your pencils and take some pills for your liver, 'cause this is going to be a good one.
Don't know Cherie? She's a founder and co-producer of the Evil League of Ecdysiasts, a regular performer at Naked Girls Reading DC, and has performed at the Asheville Burlesque & Sideshow Festival and the Great Burlesque Exposition in Boston in 2013. She toured with Gilded Lily's Carnivalesque show and performed with the Cheeky Monkey Sideshow, the Accidental Circus, and so many other folks that I'm not going to type it all because my fingers hurt and I'm very well aware the number of people who actually make it this far in a really long sentence.
You'll love her. Trust us.
This session will also have a special sponsor . . . Turtle Creek Coffee! We'll be giving away a pound of their Sweet Blue coffee as a prize for one of the drawing contests. Turtle Creek Coffee was one of the sponsors of this year's Asheville Burlesque & Sideshow Festival—Mab Just Mab, who modeled for you last year, wrote a jingle and created a commercial for them—I swear it's one of the funniest things I've seen in months. Even if you don't drink coffee and don't give a damn, watch the commercial.
(BTW, we watched this for the first time with a bunch of performers sitting in someone's backyard in Asheville while Little Luna, up from New Orleans, gave Mab Just Mab a haircut. The world is very tiny and bizarre.)
In any case, we were so amused we ordered a case of their coffee, which helped me get a shit load of stuff done over the weekend (some of which you'll see later). This is good coffee, folks—really, really good.
Not only that, but there'll be a prize from Baby Tattoo Books, contests for drinks, and all sorts of nonsense.
Doors at 6, start at 7. 18+ to draw, 21+ to drink. Show up early to get a good seat.
$10 at the door, $8 if you buy online more than 24 hours in advance.
No photography or messy paints, please (watercolors are fine).
Like our page for the latest updates: http://www.facebook.com/DrSketchysBaltimore
Photo of Cherie Sweetbottom by Stereo Vision Photography. http://stereovisionphotography.com
RSS
NYC Events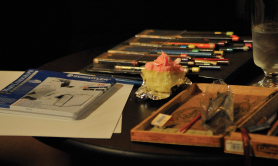 Art Tumblr
https://vimeo.com/81362468