Branch Blog - New York, NY
Tue, July 08, 2008 • To Boldly Go
Beam me up Welshy! We blew our geekwad last week with a tribute to the series that launched a thousand fanboys: Star Trek (Original Flavor).
With us on our 5 year mission was the lovely Fem Appeal as Lt. Nyota Uhura*.
Incoming hotness on channel 4 Captain.
Boots! Hoop earrings! We're basically cosplayers at this point. Sigh.
Dualla's got nothing on her. NOTHING.
Lt. Uhura is all business during work hours, but get some Romulian Ale in her and she might just let you beam down.
Our set is doing double duty here. It's an abstract representation of space and an homage to the kind of pre-pubesant bedroom where Star Trek would be enjoyed. I can't watch any classic sci-fi without wood paneling, a bean-bag and a sense of severe social awkwardness.
So that's why tribbles where so popular!
Nurse Chapel disapproves.
And lo, fan-fiction is born!
During the long break. yes the stars glowed in the dark. yes we had a smoke machine. yes we're horrible nerds.
After the break, the real surprise was …unleashed.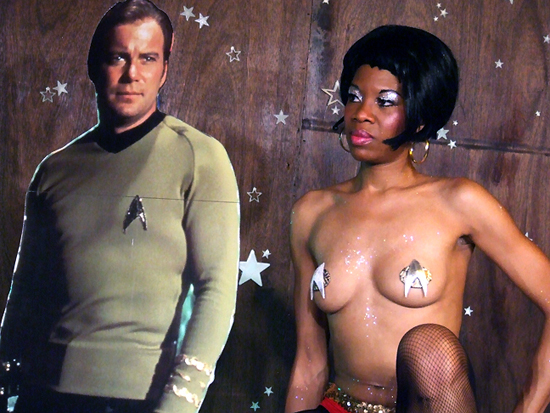 Regulation Federation pasties! Accept no substitute.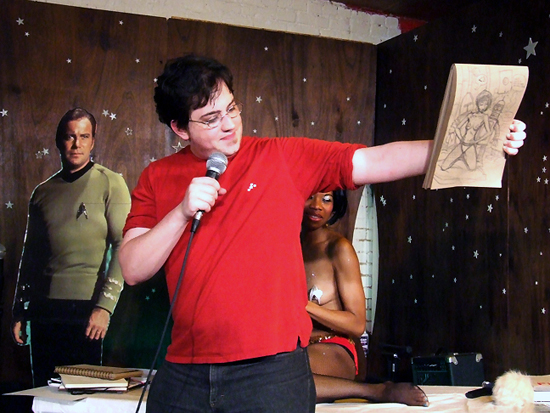 Uhura gets a visit from Tom Servo and Bender Beding Rodriguez.
And we're done! Thanks to Femme Appeal, The Lucky Cat, Dr. Simon, Justin, Hilary, Mike, Syd, and all crew members everywhere. Come back next week when La Tourmet Vert will sponsor a Green Fairy session! Shots of absinthe will flow like highly intoxicating water!

One to beam up!
But wait! There's more! Justin Lussier had his own take on the event. Ever wonder why he has such big hair? Hiding the pointy ears.
You expected us not to make a Plato's Stepchildren's reference? You expected wrong.
O! Captain my captain!
Deranged science fiction art and the people who love it!
Your luminous host Molly Crabapple and crowd.
What did Kirk ever see in green girls anyway?

Thanks again Justin!
-JL
-----
RSS
NYC Events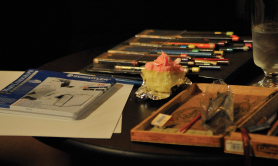 Art Tumblr
Dr Sketchy LA 12-3-13
http://drsketchy.tumblr.com/post/69027079376