Branch Blog - New York, NY
Mon, April 23, 2007 • To Hell With Poverty!
Happy Spring my little monsters! Esotre is in full bloom in Brooklyn, leading to less clothing and more outdoor zaniness. Alas, Dr. Sketchy's fell on April 14th, and the old reprobate was behind on his taxes for the last several decades.
We where raided by stormtropper accountants in bullet-proof visors, calculators clicking madly, threatening our tender assets. Thankfully, we had our secret weapon…
Lucy Buttons! Red hot, rock-in-rolling Burlesque star! She blew away the little public-servant pedants back to their dour towers. Behold her and despair!
from Wikipedia:
"Plain round halos are typically used to signify saints, the Virgin Mary, Old Testament prophets, angels, symbols of the Four Evangelists, and some other figures. Byzantine emperors and empresses were often shown with them in compositions including saints or Christ, however the haloes were outlined only. This was copied by Ottoman and later Russian rulers."
So Dr. Sketchy's is host to either an angel or a Byzantine Empress. No wonder we're always packed.
Checking the accounts …man these photos are just Freudian field days? Aren't They? Lets not think of such things, lets just bask in the loveliness of Ms. Buttons.
All contest winners are required to fill out each form in triplicate and wait 4-6 weeks for the delivery of the prize-verification ticket, to be taken to your local IRS office to be exchanged for a prize of equal or lesser value to the ticket.
Molly, in her "serious business lady" outfit. She appears to be using her hair to break the glass ceiling*.
I asked him, he didn't kill the eagle himself. Pussy.
Of course, it being tax season, we felt we had to give something back.
Taxes, despite what your Ayn Rand-readin' friends will tell you, provides services necessary for the well-being of a community. And in a perfect world, our tax-dollars would provide this…
Give us now our daily booze! A big ole' plate of booze for our loyal and parched art monkeys. Carried aloft by Steve Walker, Saint. I can't get over the look of PURE JOY on all the faces. It's like a revival tent in there.
Happy are the art monkeys! Wait, who is that on the far left? Where have I seen that man before? Wait-is that?
Yes! It's him! Um…that guy! A previous winner of free booze..and still silently contemplating the shotglass, as if in prayer. Our hats off to you, mysterious regular!
Of course, we had money-themed contests. My favorite was best "best drawing using calculator paper."
A few people did cut-up moasics on several sheets. You guys rock.
This completes the Dr. Sketchy Session. Please return all signed forms along with a receipt of reading within 2 weeks of completion or suffer severe penalties. You are required to come to the next session, where Roller Derby badass, Black-Eye Barbie will shake, rattle, and roll us.
Best,
-JL
*In the name of gender equality, we don't have a glass ceiling at Dr. Sketchys. Instead we have two painted bedroom ceilings. One filled with pony stickers and Patrick Swayze posters, and the other covered in glow and dark stars and blueprints for the Enterprise-E. Progress!
RSS
NYC Events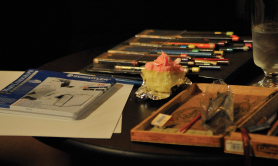 Art Tumblr
Dr Sketchy's LA 12/3/13 (pt. 1)
artofach.blogspot.com
http://drsketchy.tumblr.com/post/69132640329