Branch Blog - New York, NY
Thu, February 15, 2007 • TORO! TORO! TORO!
Most of your are probably wondering why this post is so late. To put bluntly, I died. Killed by a flaming toilet seat from a falling space station. Tragic true, but I got to ascend to the many Heavens. Let me tell you, not all they're cracked up to be. Not by a long shot. So I came back to enjoy the insane, gaudy romp that is The Dr. Sketchy's Re-Cap!
(P.S: Due to the laws of reincarnation, I had to come back as a 13 year old Japanese girl named Kemi …so there may be more emoti-cons and exclamation points.)
Enough of about me. How about some Lola Pearl?
Lola Pearl charged in into Lucky Cat last week, armed with only a sparkly cape and a dream. That dream? To Be the most amazing model, ever. Lola was able hold the most complex (and thematic!) poses I've ever seen. It's like she HAS NO BONES…could she be Reed Richard's long lost daughter? Look at these and tell me she's not using SUPERPOWERS.
If only we could be that flexible. Her make-up was equally amazing. She looked how 60s move thought "Italians" looked like. Or Spanish. Or Russian. Or really any vaugly "ethnic" woman. Big eyelashes = Foreign.
But I digress.
It takes many people to make Dr. Sketchy's work. Many deeply disturbed and socially maladjusted people . People like your hosts!
Molly Crabapple, looking radiant and perfect.. and John leavitt, looking like needs a bag of Doritos and has a song you totally have to listen to, man.
People like Ryan Roman! Our Photo Money and functioning alcoholic! Molly And John again (John Available in new "pudgy" flavor), Steve Walker in the back, Internet Monkey God (What? do busy working on your 6-figure comic book deal to be the photo? Bah! And Justin Lussier … more on him later..
And of course, Dr. Simon, who took this picture and all the lovely videos of Lola Pearl shaking her thing and the Two Man Gentleman Band rocking out during the long break.
Of course, this photo was carefully posed. It's a flithy lie. A more honest photo would be…
Ahh, the truth is harsh and disturbing!
We also couldn't do anything without the constant support of the Lucky Cat and it's hard-working bartenders. God bless you sir, you get me drunk.
The Media Bltiz continues! Both German Sex TV and Toronto TV filmed the event. We had much fun trying to guess who was who.
But it's not all about us, after all. Actual art work was created by the hard-working, sober, diligent crowd. You're all special little snowflakes in my book.
Drawing leads inevitably to contests. We've decided to retire the Living Canvas contest for a while and wanted to go out with a bang.
That's right! TWO models! The hunky Sex Object Steve Walker, and Amanda.
You may remember her as the girl who wins. every. single. contest. We're not above favoritism here at Dr. Sketchy's, and Amanda's twisted drawings are right up our sick little alley.
Out with one feature and in with another! The Hard-rocking old-time banjo rock of the Two Man Gentleman band! They played songs in between the longer sets for the delight of the Art Monkeys.
They had a Kazoo Solo. How is that not DoublePlus Awesome? They played 4 songs. Video of one can be found below, or on that crazy "You Tube" thing all your kids are talking about.
And that's it Muchacahs and Muchachos. Drop by this Saturday when Lady J will come as a Super-Spy. Anyone who makes a Molotov Cocktease joke will be shot.
-Hugs And KISSES!!11!

-Kemi!!

EXTRA AMAZING SUPER DR. SKETCHY's SUPPLEMENT!
While most of the photographs on this blog give you the impression that Dr. Sketchy's a warm, happy-go-lucky place..our Photographer Justin Lussier goes for a …"Different" interpretation.
In which I am apparently in "Seven" and about to have my thumbs cut off to show the sin of self-abuse for something
The warm Lucky Cat is now an empty warehouse, where a faceless "Artist" is sketching a woman tied to a heating pipe. C'mon Justin, this is like "Silence Of the Sketchy".
"It would appear Mr. Deckhard that you do not feel our work is a benefit to the public."
"Shall we contintue, Mr. Book?" "Yes. Another song, Mr. Hand.."
Remember! Our neighbor-store, LOVE SHINES, is giving a discount to everyone coming from Dr. Sketchy's! Drop in to find that perfect "Sorry I missed Valentines Day" make-up gift!
-JL
RSS
NYC Events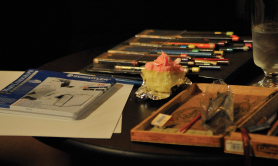 Art Tumblr
https://vimeo.com/81362468