Branch Blog - Bergen, Norway
Wed, August 24, 2011 • Tribute to a Nightmare Before Christmas
As huge movie buffs and lover of dark things, it seemed only natural to dedicate a session to the awesome film that is a Nightmare Before Christmas. We start of with the gorgeous Sally
Sally likes: worn out dresses, tall dark men and long walks on the beach. Followed by our handsome Jack Skellington
Last, but certainly not least, we are proud to present Dr.Finkelstein
If you are not familiar with the story, Sally is Dr.Finkelsteins creation. ie she is his bitch.
Alas, the heart wants what the heart wants
Which didn't go over so well with the doctor
Jack quickly found a solution to their little problem, and gave Sally a bottle of poison (which in reality is a bottle of anti-bac. sanitation is important, kids!)
"oh hey mr.Finkelstein, why don't you have some lovely, not-poisonous soup? it's delicious"
Little miss mischief
This is also where we had our first competition, which was "best incorporation of a christmas theme". here's the winning picture:
Jack flaunting his stuff. In the words of austin powers: yeah, baby! yeah!
Dr.Finkelstein wasn't too happy about the attemptive murder. Which made Sally see a side of him she had never seen before
But being his bitch wasn't exactly something she wanted to go back to. so she made him his bitch instead.
which leads us to our last competition, which was best incorperation of a banana.
oh, and jack too.
That's it for the poses. Look, people came to our show! Yay! All glory to the art-monkeys who support dr.sketchys!
Thanks again to Garage for having us. We wuv them very much. All photos by Anette Jakobsen.
RSS
NYC Events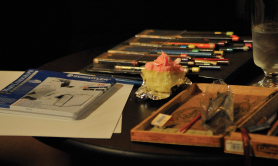 Art Tumblr
https://vimeo.com/81362468