Branch Blog - Dr. Sketchy's HQ
Thu, September 30, 2010 • Twilight session comes to Dr. Sketchy's!
Oh horrors! Dr. Sketchy's is going to be invaded by vampires this Sunday, October 3rd at the Bowery Poetry Club.
This will be a sparkly, satirical session on the Twilight books, featuring the gorgeous duo of Little Brooklyn and Madame Rosebud as Bella and Edward! Personally, I'm on Team Volturi. We'll be making a triumphant return to Manhattan at the fabulous Bowery Poetry Club! Bowery Poetry Club 308 Bowery, New York, NY Tickets are $10 in advance via our
webpage
or $15 at the door.
RSS
NYC Events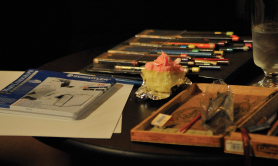 Art Tumblr
Dr Sketchy's LA 12/3/13 (pt. 1)
artofach.blogspot.com
http://drsketchy.tumblr.com/post/69132640329