Branch Blog - New York, NY
Sun, December 23, 2012 • Unicorn Meat and Greet
Word up, 24 Hour Arty People!
This year, for slightly-before-Halloween, Dr. Sketchy's Anti-Art School ran a special midnight session at Unicorn Meat's Illumination Party with Delysia La Chatte and Ariel Wolfe. Thank you to Unicorn Meat for having us and Kate Black for taking pictures.
I should probably note that this was a costume party, so the audience came dressed in costume. In the front row, we see Black Canary, Woodstock, MC Hammer, and Johnny Cash.
Here we see Wolverine and Kate Moss doing some drawing.
Jean-Luc Picard
This is considered formal dress for furries.
A pretty sweet Homestar Runner costume.
Jay and Silent Bob from TV's Clerks.
This woman is dressed as some sort of feathered creature - I'm guessing a velociraptor.
The gentleman in green is dressed as Robin from Da Hood. I am so horrified that I may have correctly identified his costume.
As the night wore on, Delysia was seen drinking with the emaciated corpse of Sam Kinison.
This ladies costume is woven from dreams and rainbows and takes the appearance of the viewer's conception of the ideal woman.
And one of this year's most popular couples' costumes - Green Arrow and Lady Gaga.
Those are all the photos we have. Thanks again to Unicorn Meat for having us. See you again soon.
RSS
NYC Events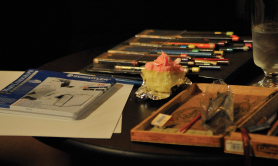 Art Tumblr
https://vimeo.com/81362468