Branch Blog - Huddersfield
Mon, September 03, 2012 • Updates Updates!
After a heavy week running around the Edinburgh Fringe festival like regular art hooligans. The Leeds and Huddersfield Dr Sketchys crew have had a rest and now ready to whip up a right royal art storm with an action packed monthly line up until 2013. keep posted on our webpages, twitter and Facebook for our monthly show themes.

Daisy & Star
xxx
RSS
NYC Events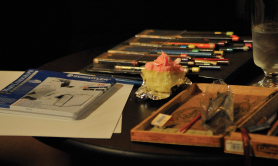 Art Tumblr
https://vimeo.com/81362468