Branch Blog - Dr. Sketchy's HQ
Fri, February 11, 2011 • We Know What Katie Did… And We Love it!
Greetings all you little Art Monkeys! We here at Sketchy's central would just like to once again voice our love and admiration for the physical manifestation of vintage glamour that is our sponsor: "What Katie Did"!
What Katie Did is a US based company that deals in only the finest (and in-house manufactured!) Lingerie, Shapewear, and anything else you might need to let out your inner 50's starlet. They're also generous enough to provide our branches with pieces from their beyond glamorous collection for use as prizes in our contests: However you don't need to win a left-handed drawing competition just to get yourself a pair of seamed stockings! You can go right to their webpage at
http://www.whatkatiedid.us.com
and order up a pair (and we highly suggest that you do!)! Their comprehensive sizing guides and easy to access personalized help will make you never want to shop for "modern" undergarments ever again!
RSS
NYC Events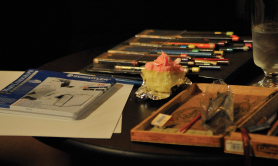 Art Tumblr
https://vimeo.com/81362468