Branch Blog - New York, NY
Sun, May 06, 2012 • We Want a Raquel
Hello, Art Monkeys.
It has come to my attention that you kids these days with your TV and your video games and your talkies and your podcasts simply aren't reading enough. We here at Dr. Sketchy's Anti-Art School are doing our part to encourage literacy by hiring model Raquel Reed. Kate Black took photographs.
Although it is not made of real leopard skin, PETA disapproves of Raquel's dress because it is essentially the leopard equivalent of blackface.
Raquel trades in her dress for a pair of gloves. I wish more women made this decision.
It has come to my attention that Raquel's surname is not spelled the same as the verb "read," so this session actually did nothing to promote literacy. However, it did raise awareness for our nation's imperiled wetlands. I hope those of you who have stopped to ponder what the hell I'm talking about will also consider what you can do to help.
Here we seem to have caught her mid-chicken dance.
Oh no! She's seen us! Run away!
At Dr. Sketchy's Anti-Art School, we do not show favouritism towards our regulars. Melanie is just better than you.
Look, not everyone sits in a chair the right way on the first try, Mr. Fancy Chair Sitting Expert.
Of course that's her natural hair colour.
Backstage, Raquel puts on more less clothes.
In order to appease PETA, for our second contest we drew furry porn.
Here she stands akimbo. I mention this because I like the word akimbo.
For those of you who have never held your arm up for twenty minutes, I don't recommend it.
We don't have any pictures of the entries for our last contest, but hey! Look! It's Yao!
So at least we have a happy ending.
Thank you to Melissa, Foley, Kate, Keith, Jawad, and Yao.
- Syd Bernstein
RSS
NYC Events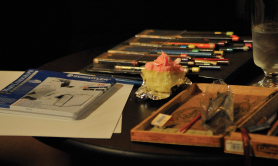 Art Tumblr
https://vimeo.com/81362468