Branch Blog - New York, NY
Tue, August 03, 2010 • Welcome to the new Dr. Sketchy's website!
Welcome to the new Dr. Sketchy's site!
Our new website was created as a central hub for all the official Dr. Sketchy's branches worldwide. Each branch has its own page in the site where they can sell advanced tickets to sessions, post about upcoming event, blog their recent adventures and share photo albums of glorious models. Follow along for daily updates on what our branches are up to and to locate an event going on near you! This site was a labor of love, created with tireless efforts over the past few months as a way to make all the branches accessible on a global level. Big thanks to our site designer,
Nubby Twiglet
, our programmer,
Patrick Dowell
, our code jockey,
Melissa Dowell
for putting everything together,
Molly Crabapple
, of course, for starting Sketchy's and being the brains behind the site's creation and all the branches in Dr. Sketchy's for filling up the site with big, beautiful photos and kick-assery!
RSS
NYC Events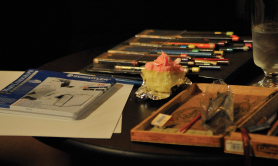 Art Tumblr
The results of tonight's Dr Sketchy's session :D
http://drsketchy.tumblr.com/post/69489605480