Branch Blog - Los Angeles, CA
Tue, August 31, 2010 • Welcome to the Show!
Hello everyone, and welcome to the new hub of Dr. Sketchy's LA. We will be updating this site to provide the most recent information on upcoming sessions, with the option to purchase discount tickets online in advance through PayPal. Also, make sure to frequent our photo and video page from time to time to satisfy your visual appetite. It is our goal to keep this blog up-to-date with everything you need to know about Dr. Sketchy's LA special events, news, and all sorts of information you may or may not need to know.
We really hope you enjoy our new online presence. Please continue to tell your friends about us and spread the word to keep making these sessions possible. As always, let us know how we can make Dr. Sketchy's better for you.
RSS
NYC Events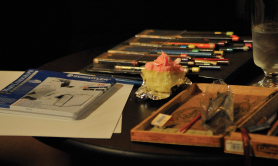 Art Tumblr
Dr Sketchy's LA 12/3/13 (pt. 1)
artofach.blogspot.com
http://drsketchy.tumblr.com/post/69132640329