Branch Blog - New York, NY
Sun, October 16, 2011 • What the Flux?
... ..., Art Monkeys!
In case you haven't heard, Liquid Television - the innovative, madcap Emmy-winning cartoon variety show that changed the way a generation thought of animation; that introduced the world to Beavis and Butthead and Aeon Flux; that warped the minds of so many impressionable youngsters 20 years ago - is back. The Internet has made stalking them even easier. Go to their website, check out their blog, and follow them on Twitter. If you happen to be one of the unfortunates who does not remember Liquid Television, watch the videos on their website and, trust me, you will (I especially recommend The Specialists - that was always my favourite). You may be wondering what this has to do with Dr. Sketchy's Anti-Art School, especially if you didn't look at the above image before you started reading. I will give you time to do that. ... That's right! The one and only Legs Malone posed as Aeon Flux for a spectacular session! Kate Black took pictures, and, since you've been such a Good child, I will share them with you:
Charlize Theron, eat your heart out.
I know you're all wondering how Aeon got her hair so perfect. Her secret is that she had help from a wig fashioned by our friend Numi Prasarn (pictured above, the one who isn't Legs).
Legs is proficient in 4 different martial arts, all of them sexy.
Our illustrious audience, illustrating.
And what drawings they created! (More available here.)
Calling a thing by one of its component parts is metonymy. I mention this, because I have thought of three or four things that Legs Malone could just as easily have been called.
Matt played piano, I played guitar, and Foley sang. Well, we had to make MTV feel at home, and music is in their name!
You can feel Melissa's disapproval for our performance dripping from this photo. Numi - much less so.
For those of you following along at home, this is the exact moment when shit got real.
Foley was thrilled to see real money for the first time since he's been working with us.
MTV was very generous, providing us with a whole slew of DVDs to distribute as prizes.
With such a wealth of prizes, we had a full shitload of contests.
We also gave away a Squishable to the winner of the best one-line drawing.
You know, for Aeon Flux, this is considered modest formalwear.
Yao drew on condoms. Why? It's Yao.
Proper gun safety has its time and place, and this isn't it.
Nothing says "dystopian future" like self-shot iPhone photos.
Even during the 20 minute poses, Aeon doesn't let her guard down for a second.
Ok, maybe for a second, but not much longer than that.
And those are all the photos I have. Until next time, good friends.
- Syd Bernstein
RSS
NYC Events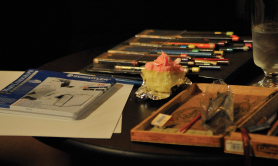 Art Tumblr
https://vimeo.com/81362468