Branch Blog - New York, NY
Tue, May 25, 2010 • Whatever Eliza Wants…
We recently had a VERY special Dr. Sketchy's session. I know that all of our sessions are special, but this one was extra-super-double-special. We had our tribute to dancer/actress/courtesan/international woman of mystery Lola Montez on her grave at Green-Wood Cemetery. Yes, it only seems right that since she is not capable of going to Dr. Sketchy's Anti-Art School, Dr. Sketchy's Anti-Art School should come to her.
Some may say that dancing on someone's grave is disrespectful, but Spider dancing I'm pretty sure is all right.
Our model, Jo Boobs, arrived in costume.
Tightening corsets always looks so dirty, which is one of the reasons I like them. Tighter, Dolcy, tighter!
Molly Crabapple, without whom cemeteries just wouldn't be as much fun.
What do you mean? We're just quietly paying our respects.
These last pictures were taken after a police officer politely told us that we couldn't do what we were doing and we retreated to a nearby park bench.
-----
RSS
NYC Events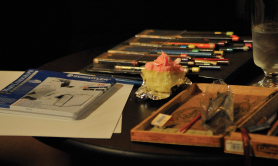 Art Tumblr
https://vimeo.com/81362468