Branch Blog - New York, NY
Thu, December 20, 2007 • What's Black and White and Red in the Background?
Greetings, bloggers, bloggees, bloggists, and blog cabin Republicans!
Well, John Leavitt has taken ill, so I return to blog again. I feel a bit like Jay Leno. Not Jay Leno now, I mean back when Johnny Carson hosted the Tonight Show. You know, Johnny Carson! He was… No, you're thinking of Jimmy Carter. Completely different person. Johnny Carson was… No, no, no! That's Jack Kerouac! That's not even close! Oh, you damn kids!
Recently, we had our minds blown by the op art antics of Amber Ray and Muffinhead.
These two make my best-dressed list. Hell, they are my best dressed list. Seriously, why is everyone not dressed like this? Fashion is a fraud!
Oh, beautiful! For specious guys and Amber Ray and grain. I'm sorry, I forget the rest of the words.
Do you know the Muffinhead? He lives on Drury Lane.
Seriously, if I were a mosquito, I would be happy to be caught in Amber.
Naturally, with such inspiration as this, our art monkeys created some brilliant artwork.
I don't know whose pad this was taken from, but I have to give him a great deal of credit - he brought coloured paints, and by God, he was going to use them!
And a good time was had by all!
Thank you to John Leavitt, Molly Crabapple, Dr. Simon, Ryan Roman, Steve Walker, Eve Butler, and my hero, the Mystery Artist who painted black and white models in colour.
Wave goodbye, Amber.
And an extra special goodbye to our Hindu readers!
- Syd Bernstein
-----
RSS
NYC Events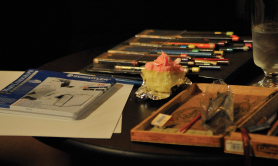 Art Tumblr
Dr Sketchy LA 12-3-13
http://drsketchy.tumblr.com/post/69027079376