Branch Blog - New York, NY
Thu, August 30, 2007 • When they do the Mambo In Paris….
Mon deiu! It's yet another retro Dr. Sketchy's!
Yes it's 1930! again! But now it's Paris, mon cherie! And it's Josephine Baker for us thanks to the lovely Fem Appeal!
Black and white equals CLASSIC!
yes the very gal whom Picasso turned into a poster image and who Fredia Khalo had an affair with (accord to Julie Taymor at least) appeared to give us a hazy, drunken vision of Paris in the 30s! Lets get crackin!
Your hosts, John Leavitt and Syd Bernstien. Molly *was* there for w hile, but had to run to some "fringe" festival in like, Scotland or something. Whatever, I give it a week.
Enough of this! This was a Fan-Frakin'-tastis session, thanks to viwers like you. Lets see some more Fem Appeal as Ms. Baker, thanks to the thankful photos of Ryan Roman and Dr. Simon.
She even had a leopard!
We're all about historical accuracy here at Dr. Sketchy's.
Ms. Appeal shows us the importance of walking like an Egyptian.
The lovely balloon backdrop was my idea.. but fully set-up by Dr. Simon, Syd Bernsten, and Molly Crabapple. Lets hear it for their huge lung capacity!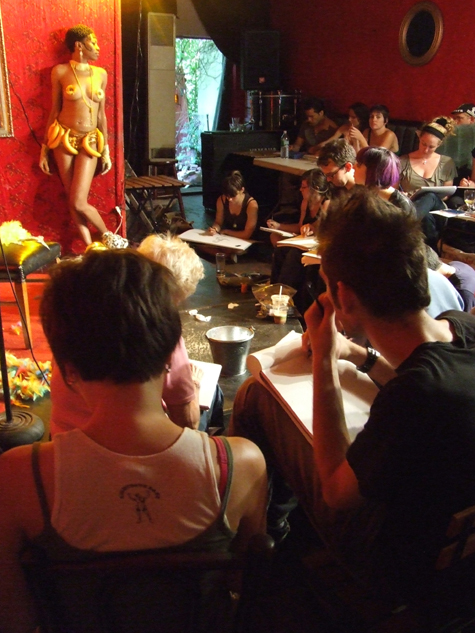 Golden Light provided by Dr. Simon and my breaking back.
But we had other stuff. Like ART! It was, of course, Paris in the 30s! Hotbed of MODERNSIM! So we had contests like "best incorporation of modernist styles, Picasso, or Paris"….
Yes, yes it is.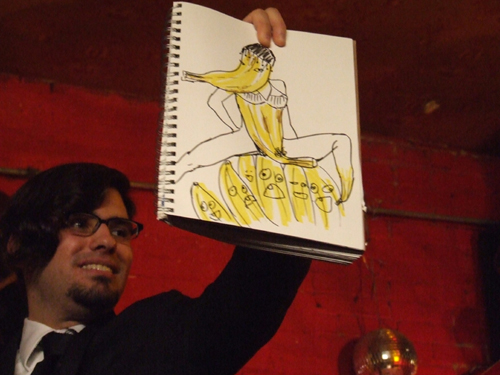 What is wrong with you people?!
And some people won prizes! Like this oddly shocked man!
Or this girl!
Who won a limited edition Dr. Sketchy's T-shirt from the nice folks at Queer Republic T-shirts! They're just faboo!
Some people however, just won alcohol
WINNER DON'T USE DRUGS. Sometimes.
And thats it! Join us on Sept 1st when Gravity Plays Favorite will give us a vision of Heaven and Hell! Thanks to Molly Crabapple, Syd Bernstien, Ryan Roman, Steve Walker, and all the Art Monkeys! Without you, we're just drunks with lots of glitter and feather boas.
Best,
-JL
-----
RSS
NYC Events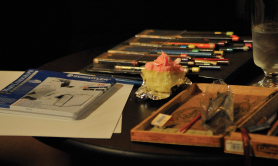 Art Tumblr
Dr Sketchy's LA 12/3/13 (pt. 1)
artofach.blogspot.com
http://drsketchy.tumblr.com/post/69132640329