Branch Blog - New York, NY
Thu, December 03, 2009 • Where Neptune Never Sleeps
Greetings, art monkeys! This is your good friend Syd, back with another installment of Dr. Sketchy's Anti-Art Blog. It's good to be back! How have you been? Is that a new haircut? It looks good on you!
At our last session, we ventured deep into the uncharted depth of the Slipper Room. Our journey was fraught with peril. As you can see, all that remained of the last expedition was a skull, some flowers and a book from our beloved sponsors at Baby Tattoo Books. Rumour had it that a sea witch's domain was there - a seductive, deadly sea witch, who was also Allison of RockLove Jewelry. We brought along two photographers - regular photographer Justin Lussier and auxiliary photographer Steve Prue - in case one of them didn't make it back.
Seriously, I barely made it out of there alive.
When we encountered Allison, she was accompanied by two lovely assistants. If I had to guess, I would say they probably had names, but don't quote me on that.
Look out! The hand! It's coming right at you! It's going to drag you down - straight to Hell!
Kilts are great. Not enough people wear kilts. There, I said it.
Our first contest, as always, was best left-handed drawing
I don't remember what was happening off-camera, but Allison and I seem to be delighted by it.
The first assistant's seething envy for the second assistant is almost palpable.
Here is you the audience, eagerly drawing away. And what are you drawing, you may ask. Well go ahead and ask! I can show you through the miracle of Steve sneaking up on people and taking pictures of their drawings.
Yay! Art!
Assistant 1 + Assistant 2 = B.F.F.
In this highly symbolic scene, Allison contemplates Aradia Ardor's mortality.
The object of this contest was to give Allison legs. They would be a lot more useful than her fin, seeing as there was no water on the stage.
No matter what Joe Quesada has to say about it, Spider-Girl does exist!
What's weird about this one is not that no part of the model was actually drawn, but look at the feet: Those legs are on backwards! This drawing gives me the creeps.
For Thanksgiving, this artist gave the model turkey legs. Unfortunately, turkey legs don't last very long around me.
And, of course, every Japanese pornographer's favourite: tentacles.
The prize for this contest was a stuffed animal from Squishable. I was told that it was a snail - and that certainly is a snail shell - but it has legs, which snails are not generally known to have. Also - look - it has eyestalks and eyes separate from the eyestalks! I was freaking out until John explained to me that it was actually a beaver cleverly disguised as a snail.
I don't know what she's saying, but John is terrified.
Regular readers of this blog know that Steve likes to get shots that appeal to specific niches, and he knows that even more than men love feet, women love shoes.
Here is John where he does his best thinking - at the bar.
Here is our glorious founder Molly Crabapple posing with the Allison. All hail Molly!
Here is Justin. Woah… photographers photographing photographers… that's so… like… woah…
Ooh… I love a girl in fishnets. Get it?
Because…
You know what? Fuck you. They can't all be brilliant.
Steve Prue produced this study in booze.
We here at Dr. Sketchy's Anti-Art School are big fans of liquor, but at the same time, we realize that drinking is Serious Business. I would like to take this opportunity to illustrate the various levels of inebriation.
Phase 1: Giddiness
Drinking makes you happy. Duh.
Phase 2: Yoga
Nothing helps you get in touch with your spirituality better than alcohol. The position Beth is in also serves as an apt metaphor for my life.
Phase 3: Juggling
While intoxicated, you may find yourself capable of incredible feats of acrobatics or prestidigitation. This is the best time to attempt them.
Phase 4: Arm Wrestling
Actually, any sort of physical competition or combat is enhanced by alcohol, as is watching Over the Top.
For the drinking contest, our artists were asked to incorporate other sea creatures to be Allison's friends.
Aw! Those poor narwhals! Why, Allison? What did they ever do to you?
Barracudas! Dun-dunna-dun-dunna-dun-dunna-dun-dunna- DA NA!
Here is Allison as a siren with two skulls keeping her company.
These seals are too adorable.
This artist will be hearing from Nickelodeon's legal department.
And as the winners enjoy their windex, I will leave you for now. Thanks to Molly, John, Steve, Justin, Melissa, Dave, Hilary, Dolcy, Beth, and all of our friends everywhere. Good night and I'll see you Saturday!
-----
RSS
NYC Events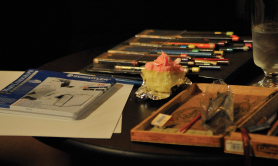 Art Tumblr
Dr Sketchy's LA 12/3/13 (pt. 1)
artofach.blogspot.com
http://drsketchy.tumblr.com/post/69132640329