Branch Blog - New York, NY
Mon, July 30, 2012 • Where the Toys Are
Greetings, Art Monkeys!
Remember when we were kids and the girls played with My Little Ponies and boys played with G.I. Joes? Well, I had liberal parents who wouldn't let me play with G.I. Joe, because they thought it encouraged violence. They didn't seem to realize that what really encouraged violence was having older brothers and all they were doing was giving comfort to the enemies of our country's imaginary troops. Of course, nowadays, the boys play with My Little Ponies and the girls play with pulsating plastic phalli, so I guess the terrorists have won. However, we at Dr. Sketchy's Anti-Art School wanted to remind you of a more innocent time in your lives, so we had Holly J'aDoll and Lauren LaRouge pose dressed as a toy soldier and a pony respectively. Kate Black took pictures.
You may be wondering why, if she's meant to be a soldier, Holly is wearing a pink feathery skirt and high heels. My only guess is that she is in the French army.
This is the way the ladies ride.
The horse outfit was inspired by the Greek army, who, following their victory at Troy, focused on the pretending to be horses military strategy. It was thinking like this that made them the political and economic superpower that they are today.
Backstage, Lauren demonstrates the difficulties posed to drinking by a horse head.
Sometimes, breakfast is awkward when your roommate is a horse.
No, Holly, I salute you.
This pose, with Lauren's front hooves raised indicates that Holly died in battle, unless you've done any research into the subject.
The winner of our first contest poses with his book from Baby Tattoo.
I've seen a lady whipping a horse, but a horse whipping a lady? That's something I rarely see outside of Supergirl fan fiction.
You see, this is more what I'm used to.
I guess they take turns, not making any assumptions of who should be dom and who sub in horse/woman relations.
Our audience contemplates the horrors of toy war.
In this pose, both rider and mount are seated, dsiplaying an egalitarianism seldom seen in equestrianism.
A Squishable pufferfish was awarded for transforming the models into other sorts of toys. Seemingly, nobody went with video game consoles.
Our audience created some fantastic art at this session.
Yao did, too.
Numi and Melissa provide photographic evidence at last that they are not the same person.
For this pose, the horse removed her head, revealing the smaller secondary head hidden underneath.
The soldier only removed her hat, because she's kind of a pussy.
This artist thinks she's better than us because she can do fancy things on the computer, but you know what? She's not.
And the spoils of war were enjoyed by the victors.
Thank you to Melissa, Foley, Kate, Keith, and Yao.
- Syd Bernstein
RSS
NYC Events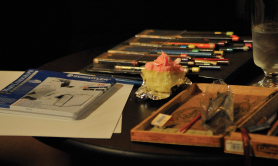 Art Tumblr
Art by me at dr. Sketchys seaside at the alternative cafe. I am Jacob Rafael Estrada
http://drsketchy.tumblr.com/post/69484943198