Branch Blog - New York, NY
Thu, June 07, 2007 • Who Came Along For The Ride
John Leavitt left on vacation, taking along a map, some traveler's checks, and a case of penicillin. As his substitute, I will continue his lesson plan. Where did we leave off, class? Does anyone remember? Spit out that gum, young man!
On May 26th, Dr. Sketchy's went Hollywood! That is, Hollywood 50 years ago! We dripped with sleaze. We dashed hopes and shattered dreams. We sacrificed our lives in the empty, vain pursuit of fleeting stardom! All of this was to celebrate our lovely, Marilyn-esque model, Ruby Valentine.
I have been told that some like it hot. For them, Ms. Valentine was the perfect thing.
She was also quite a treat for gentlemen who prefer blondes. I personally don't know any gentlemen, but I hear this is the sort of thing they appreciate.
These pictures make me want to go stand over a subway grating…
Of course, we couldn't rightly do any sort of 50's tribute without some hula hoops, so during intermission, we found an act that combines a great number of hula hoops with a hot girl. God bless America! Or in this case, Australia. Presenting the Aussie hula sensation, Marawa!
As it is truly difficult to encapsulate how awesome her act was with still photographs, try this exercise. Put on some appropriately upbeat music. Now look at this photograph:
Now look at this photograph:
Now look back and forth between them really rapidly.
Now imagine something 5,000 times cooler. It was something like that.
I know what you're thinking. We may have some Hollywood-style sleaze, but it's meaningless if it isn't soaked in gin. Fortunately, we had gin, too. Just look at the winner of our famous drinking contest accepting her prize:
And so, everyone had a good time at Dr. Sketchy's Anti-Art School. At least they did until the end of the afternoon when Jack and Bobby Kennedy showed up. Then things sort of got out of hand.
Goodbye, Norma Jean, though I never knew you at all. It ain't a mystery, baby, not to me.
Sadly, I have now officially exhausted my full knowledge of 50's era Hollywood in general and Marylin Monroe in particular, so I must be off. Thank you to Ryan Roman for the pictures, John Leavitt for the music, Ruby Valentine for the poses, Marawa for the hoops, and Molly Crabapple for everything. Join us on June 9th, when our model will be Dani Danger. Until then, keep reaching for those stars!
-Syd Bernstein
-----
RSS
NYC Events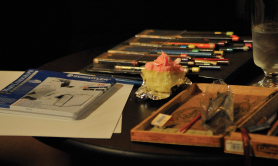 Art Tumblr
Dr Sketchy's LA 12/3/13 (pt. 1)
artofach.blogspot.com
http://drsketchy.tumblr.com/post/69132640329