Branch Blog - New York, NY
Thu, April 12, 2007 • Wont you go a sketchin' with me?
Oy! Those crazy Aussies have been shaking up the land down under with not one but TWO Dr. Sketchy's sessions!
From Dr. Sketchy's Sydney, from the talented hand of Riki Salam and Robyn Neild!
http://media.smh.com.au/?rid=27163&source=rss&sy=smh
And a news report! Warning, features a dangerous amount of sexy performers (Stripping! while balancing 50 hula hoops!) with adorable accents.
And lets not neglect Melborne, where Ms. Louie presents ballon-popping fun!, with Cheekheeta Margareeta of HiBall Burlesque!
[youtube=http://www.youtube.com/watch?v=nUIdyIK7VIM]
Vunderbar! They're *all* spiecal snowflakes!
If you happen to find yourself in the merry old land of Oz, check out Dr. Sketchy's Melbourne at
http://empe.customer.netspace.net.au/
And Dr. Sketchy's Sydney at
www.jacbowie.com
I heard a rumor that the first photos ever from Dr. Sketchy's Tokyo are available…but where?
best,
-JL
P.S Check out this video of Molly eating fire and me sounding totally gay
http://www.sextelevision.net/show/currentGallery.asp?segmentDisplayID=516#
(Possibly NSFW)
RSS
NYC Events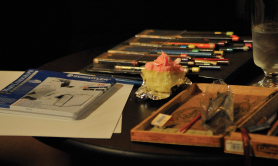 Art Tumblr