Branch Blog - New York, NY
Tue, May 12, 2009 • Wrath of the Con

So our New York regulars who missed SketchyCon '09 are probably pretty pissed at us, especially since it was the most awesome thing ever. We had Dr. Sketchy's principals from all over this continent (except for Mexico and Central America), but the convention was only for organizers of Dr. Sketchy'ses, excluding some of the people who are reading this blog. However, fret not all of you who are not cool enough to be running your own Dr. Sketchy's branch! Because we are such wonderful people, we are going to share with you some of the highlights of SketchyCon through the magic of photography!

The masses assembled in Dr. Sketchy's New York headquarters for a very special session of Dr. Sketchy's goodness. We had two of our best models ever:
Amber Ray and

Gal Friday.
In case you were wondering what was with the wings, that's because they're fairies. As for the flowers, their groins won the Kentucky Derby.
The camera is absolutely in love with Ms. Friday.
But it is also having a torrid illicit affair with Amber! That backstabbing slut!
So much skin! So much beautiful skin! I think I'm O.D.ing. I need a break.
Thank you, photographs! Cupcakes and vodka - two great tastes that taste great together.
This was from the second day of the convention, when we all met in a loft to discuss marketing and set design and stuff like that. Nicola Black of Dr. Sketchy's Philadelphia gave a particularly remarkable presentation.
This is what it looked like from the back.
Here's Molly going on about something…
And John talks about something else…
Here is Happy Kate from Dr. Sketchy's Houston giving her presentation, which was much more interesting if you could hear what she was saying, but you know what? There's nothing I can do about that! Leave me alone!
All right! Enough of this! Let's get back to the beautiful women who aren't wearing clothes.
That's much better!
The session was hosted by New York's own gods of burlesque life drawing, Molly Crabapple and John Leavitt. For more of them, see below.
If you're wondering where all the glamour shots of me are, that's me behind Molly.
Here East meets West as Molly Crabapple poses with the crew from Dr. Sketchy's Dallas.
And here East meets Slightly Less East as Molly poses with the heads of Dr. Sketchy's Pittsburgh.
Those of you who are still thinking about how dreamy that guy from Dr. Sketchy's Dallas is, you're in luck! Mr. Machismo Foghat himself was nice enough to provide us with a human canvas.
Unfortunately, Steve Walker, who did not have a naked torso available on which to draw, had to use a sketch pad. Poor Steve.
Here is a sampling of some of the artwork. I don't remember whose these are or why there is a giant weevil attacking Gal, but other than that, these should be self-explanatory. Now, we just have a few more pictures of our models and then I want everyone to gather in for a big ol' group photo!
Special thanks to everyone in this photo and to everyone who was inadvertantly cropped out and to everyone we missed. In short, thank you to everyone who made SketchyCon '09 possible. I'll see you all next year!
-----
RSS
NYC Events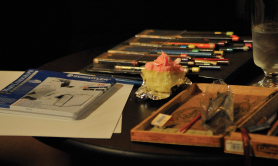 Art Tumblr
https://vimeo.com/81362468