Branch Blog - New York, NY
Tue, October 20, 2009 • Yom Rockin' Kippur!
Howdy, Comrades!
On the night following the holiest day in the Hebrew calendar, Dr. Sketchy's Anti-Art School celebrated Molly reaching some large, round number of Twitter followers with a secret Dr. Sketchy's session in Times Square. Molly announced the time and place on Twitter. Little Brooklyn modelled for the session and Justin Lussier took photos, as did special guest photographer Caitlin Field. Just take a look at one of Caitlin's photos:
These are but some of the literally multiple art monkeys who braved the water that was falling from the sky to come to the session.
And this is the model, Little Brooklyn, who had cleverly blended into her surroundings by disguising herself as a pigeon.
Here we see more of the people who are way better than all of you who didn't come because you're afraid of rain. Here's you:
"I'm melting! Melting!"
Little Brooklyn brings dignity and nobility to the proud rock dove.
John Leavitt was on hand to host the session and hold the model's umbrella.
Here he is looking absolutely maniacal.
My! But the back of my head looks handsome!
Here the winner of our contest displays his art. The contest was the best incorporation of a New York City pest, in this case, a tourist.
Little Brooklyn posed with our surprise guest model, Confused Woman.
Here Little Brooklyn looks around wearily, with the unshakable feeling that she's being watched.
In addition to our brace of photographers, our videographer Keith Jenson was there video taping the proceedings. Here is his video:
Dr. Sketchy's Times Square from Spooky K on Vimeo.
As some of you might be aware, the assholes in charge of Times Square didn't think to set up a sound system or DJ booth, so our music for the session came from John and me singing. The song we're singing in the video is "New York City" by Cub. It mentions Times Square in the lyrics.
That's all for now. This was a quick entry for a quick session, but there will be a real, full-length session this Saturday, October 24th with Stormy Leather in a tribute to the art of Tara McPherson. I can't wait! See you there!
-----
RSS
NYC Events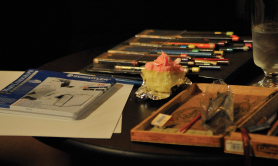 Art Tumblr
https://vimeo.com/81362468