Branch Blog - New York, NY
Fri, February 13, 2009 • You Brought The Birds Here!
It's our friends Aprella and Veronica Varlow in a gore-y, garish tribute to Hitchcock's The Birds! What's better than a horror
classic to fitter away a Saturday afternoon? This session had everything, stuffed birds, cupcakes from Glittl, and disfiguring
makeup. See more of our lovebirds after the jump.
Photos by Dr. Simon.
I'm not sure how the bones fit into the theme but any excuse for macabre props is a good excuse.
Me, myself, holding up one of our prizes, a calender from the fabulous Tokyo Dr. Sketchy's! Mark your days in a sexy way.
I am always amazed how many talented people come to our sessions. They must have gone to school or something.
And contests! Best transformation of the models into birds, cause we're creative.
I'm pretty sure we just stream these images from the minds of sleeping perverts onto your screen.
And there is more! More wonderful photos from the wonderful Justin Lussier! Justin! Get. A. Website Al Ready.
That sound your hear are men's heads exploding worldwide.
And fade to black! Thanks to Veronica Varlow, Aprella, Justin, Simon, Glittl Cupcakes, and All The Art Monkeys Everywhere. Come back this saturday when we'll raise a glass to the painter Ron English with Amber Ray and our most surreal Session Ever.
-JL
-----
RSS
NYC Events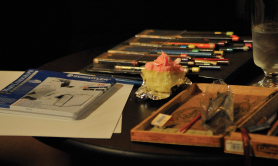 Art Tumblr
The results of tonight's Dr Sketchy's session :D
http://drsketchy.tumblr.com/post/69489605480