Branch Blog - New York, NY
Wed, August 19, 2009 • You Know Damn Well Who Dr. Sketchy Is!
Ciao, Art Monkeys!
At the last Dr. Sketchy's Anti-Art School, we had celebrity supermodel Raquel Reed posing. In honour of that, I thought I would do this blog post in the style of one of those celebrity gossip columns. Unfortunately, I have never actually read a full celebrity gossip column, so I would be incapable of effectively imitating their style. In fact, I'm so out of touch that I'm not entirely sure who qualifies as a celebrity these days. For instance, I couldn't honestly tell you if anyone still cares about Britney Spears. I would assume that her parents do, but don't quote me on that. Still, I am committed to this idea, so, as I would if I had my own gossip column, I will make things up about people whose names I know.
ITEM: Splitsville for Louise Post and Matsuo Tsurayaba? According to close friend Arnold Rothstein, the two are now living on different continents. Also, one of them is a fictional character.
ITEM: Raquel Reed gives the audience at Dr. Sketchy's Anti-Art School what they want: Raquel Reed!
ITEM: Raquel Reed is seen wearing a daring and revealing blue and gold outfit, is seen significantly less well by people who showed up late.
ITEM: Did you see what Sean Penn wore to the Oscars? Because, honestly, I wasn't paying attention. I would assume it was some sort of tuxedo. I know they were a while ago, but I would still like to point out that I would totally do Eva Marie Saint. When is that husband of hers going to die? The guy is like 83!
ITEM: Artists draw Raquel Reed with their left hands for contest. Winner receives Miss Mindy's Sassy Paper Doll Bonanza from beloved sponsor Baby Tattoo.
ITEM: This weekend, Brian Regan murdered Henri Murger in a poker game gone bad. "They'll never take me alive!" Regan was heard to quip as he fled the scene.
ITEM: Raquel Reed demurely safeguards her modesty.
ITEM: Justin Lussier, like a good paparazzo, thwarts Raquel's efforts to safeguard her modesty by slightly changing the camera angle.
ITEM: Recently, Marc Barnhill was seen eating at a local T.G.I.Friday's. "Who the hell is Marc Barnhill?" demanded the person sitting next to Syd. "Who the hell are you?" retorted Syd.
ITEM: Raquel Reed to star in educational film to instruct mentally challenged celebrities in where cocaine goes.
ITEM: Raquel Reed lactates saline. Doctors have yet to explain this medical anomaly.
ITEM: Raquel Reed enters chihuahua tossing competition.
ITEM: Raquel Reed gets lost and needs to buy a map to stars' houses to find her own home.
ITEM: Has Raquel Reed lost touch with the common man? Model is seen lighting molotov cocktails with hundred dollar bills.
ITEM: Tragedy struck Angelina Jolie's household, when her latest baby was devoured by Glenn Beck. "I should be able to eat a baby without government intervention, you socialists!" explained an unrepentant Beck.
ITEM: John Leavitt is a pretty, pretty princess.
ITEM: So is Molly Crabapple.
ITEM: Mysterious, unidentifiable man seen frequenting Dr. Sketchy's gives everyone the creeps.
ITEM: New dance move, "The Flamingo" sweeps nation. Says originator Raquel Reed, "Flightless birds have always been an inspiration to me."
ITEM: The custody battle for Baby Matsuo! "My favourite artist is Gris Grimly!" declares Louise.
ITEM: John Leavitt holds drawing at angle that does not allow Syd to see it.
ITEM: Raquel Reed goes to rehab. Upon leaving, an IV becomes a permanent part of her new look.
ITEM: Then this happened.
ITEM: Something about oral sex. This contest was really confusing.
ITEM: "Gaga for God!!!" Raquel Reed finds religion after receiving a cumshot from Odin.
ITEM: Artists drink.
ITEM: Audience outraged by predictable, formulaic ending for blog post in which Syd thanks single-named celebrities Molly, John, Melissa, Justin, Dolcy, and Hilary.
See you next time!
-----
RSS
NYC Events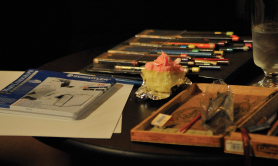 Art Tumblr