Branch Blog - Chicago, IL
Fri, April 19, 2013 • Zoinks! Egads! Comic Strip was a Hulk Smash!
We got down and got our geek on last Sunday at Dr. Sketchy's Chicago!
Stella Cheeks was stellar in her Marvel Comics undergarments ensemble, and then Hulk Smashed in her Bruce Banner get-up! Trivia games, sketching the model into a comic strip and great prizes for their amazing efforts by Chicago Comics! It was tons of fun, and we can't wait to see what June brings! Stay tuned...
RSS
NYC Events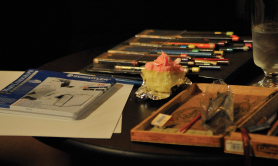 Art Tumblr
Dr Sketchy's LA 12/3/13 (pt. 1)
artofach.blogspot.com
http://drsketchy.tumblr.com/post/69132640329