parties? festivals? insurrections?
•Dr. Sketchy's produces special events around the world, at venues including...
The Museum of Modern Art (New York, NY)
The Sydney Museum of Contemporary Art (Sydney)
Kiasma Museum of Contemporary Art (Helsinki, Finland)
The Pixel Art Fair (Sao Paulo, Brazil)
The Edinburgh Fringe Festival (Edinburgh, Scotland)
The Montreal Fringe Festival (Montreal, Canada)
New York Comic Con (New York, NY)
Baby Tattooville (Los Angeles, CA)
Dos Equis "Most Interesting Academy" (New York, Chicago, San Diego, Atlanta)
•We've also...
Thrown flashmobs in Times Square and during Art Basel
Created Custom live installations for the Deitch Art Parade, Babblegum, The New York Burlesque Festival and Museum of Sex
Curated gallery shows in New York and Japan
Taught Coca Cola Executives to draw
•We'd love to work with you!
Ron English at Opera Gallery from Spooky K on Vimeo.
Dr. Sketchy's organizes a rampage of cowgirls at Ron English's art opening in Soho
If you are interested in bringing Dr. Sketchy's to your special event, contact Molly Crabapple [email protected] with the date, location, budget and theme.
RSS
NYC Events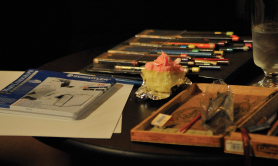 Art Tumblr