join the sketch revolution!
•we're looking for enthusiastic, organized individuals to spread the dr. sketchy's doctrine to every corner of the globe
Whether you live in Paris or Peoria, we bet your town could use some dirty life drawing action
Our over 100 branches have appeared in newspapers, magazines and the Dr. Sketchy's Official Rainy Day Colouring Book. They've received original art and their models have been drawn for Dr. Sketchy's projects. Plus, there are the rewards of practicing your drawing while hanging out with gorgeous half-naked girls.
If you want to join the roster of Dr. Sketchy's principals, fill out the form below. You DON'T have to be an artist. You do have to be a cool, responsible individual who can work hard and answer emails. Can't wait to meet you.
–MOLLY CRABAPPLE
•applying for a dr. sketchy's branch does not guarantee acceptance.
If the form isn't working for you or you haven't gotten a response in a while (NOTE: response can take up to 7 days depending on our volume of inquiries), please email branch manager Melissa Dowell directly at [email protected]
Testimonials from Sketchy's Principals
"I knew Dr. Sketchy's would be fun, but I didn't expect it to be so popular with so many different kinds of people, or how I would look forward to the regulars as much as they enjoy coming! And at the end of the night, when the artists are thanking and say how this has become their new favorite thing to do every month (my event??), I'm floored"
–Liz panelo. founder of dr. sketchy's seattle
RSS
NYC Events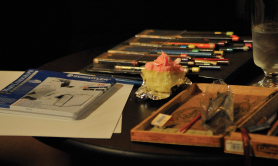 Art Tumblr
Dr Sketchy's LA 12/3/13 (pt. 1)
artofach.blogspot.com
http://drsketchy.tumblr.com/post/69132640329