Branch profile - Akron, Ohio
Dr. Sketchy's Akron
•

Akron, Ohio

•

.(JavaScript must be enabled to view this email address)

•

Venue:
---
Welcome to the Rubber City and Welcome to Dr. Sketchy's Akron!
We're lookin' to light a fire within the Akron Art scene…...that, or we're just lookin' for a good time, good art, tasty beverages and beautiful bodies!
Schedule of Upcoming events
Tue, December 10, 2013 • 6:30pm - Creature from the Black Lagoon!!
A sexy She-Beast, a drop-dead Damsel in Distress... What could say "Happy Holidays" better than a tribute to a classic Universal pictures Monster Movie with "The Creature from the Black Lagoon"?!?
This month we're more than excited to welcome back Moy-Moy who brings with her, the fiery ginger, Miss Freddie Redd!!
This session is gonna be a blast!...So grab all of your friends and head to Highland Square as we bring Dr. Sketchy's Anti-Art School to Annabell's Bar & Lounge!!
Tuesday, December 10th
Drawing from 7:30 to 10:30
Annabell's
18 to draw. 21 to Drink!
a mere $10 gets you into the session
($8 with a valid student i.d.)
Thanks to Art Monkey, Scott Alan Evans, for the suggestion to this month's theme, it's already been a blast and we haven't even started yet!!
RSS
NYC Events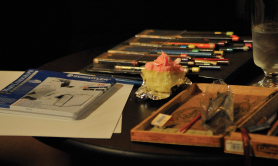 Art Tumblr
Dr Sketchy's LA 12/3/13 (pt. 1)
artofach.blogspot.com
http://drsketchy.tumblr.com/post/69132640329